StarMax : Star / Planets Trails Made Easy until Down with new Moving effect !
By Gilbert Grillot and Sylvain Weiller (Delphi 7)
Last Update :


v2.5.25 : Language module En / Fr

Download StarMax ...
Télécharger StarMax ...
This latest version adds an option for progressive darkening of older frames in MovingMax !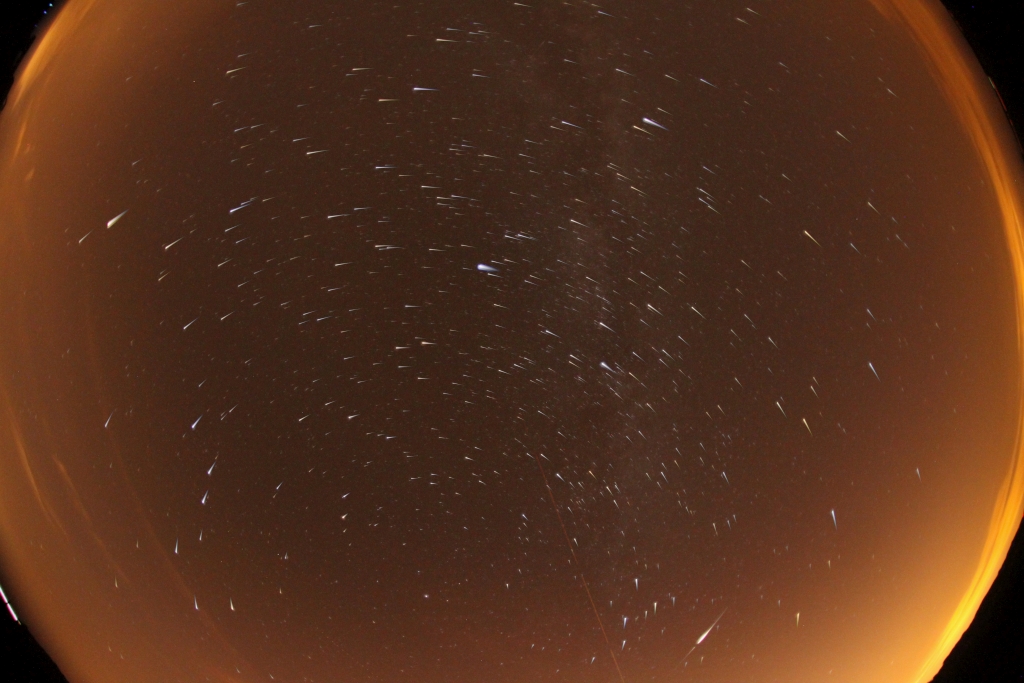 Small demo after turning all the resulting pictures into a video (Perseide's night, August 12, 2013) ...
Click to see or download color with dark substracted Xvid version ...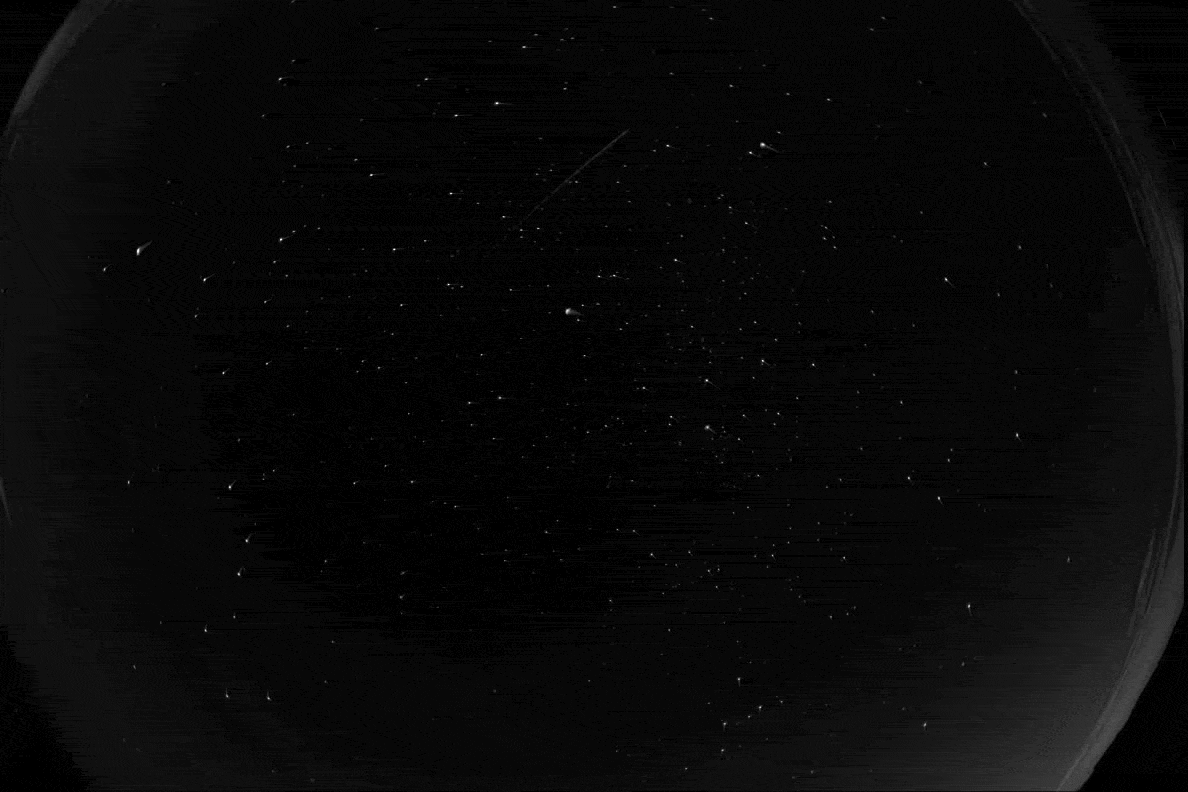 Prior StarMAx version without progressive darkening, stars looking like bars ...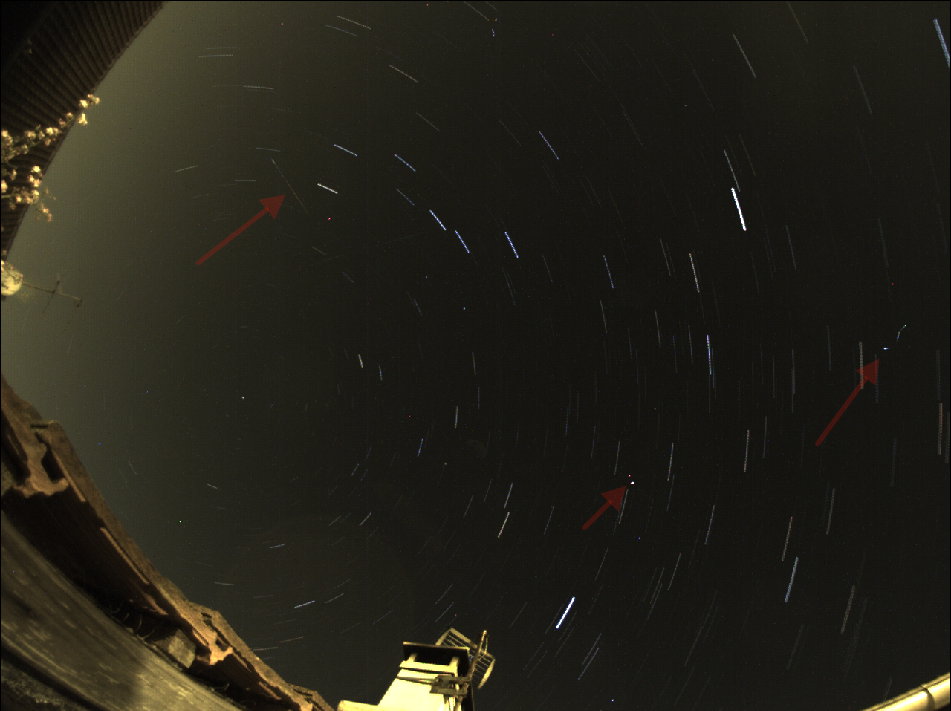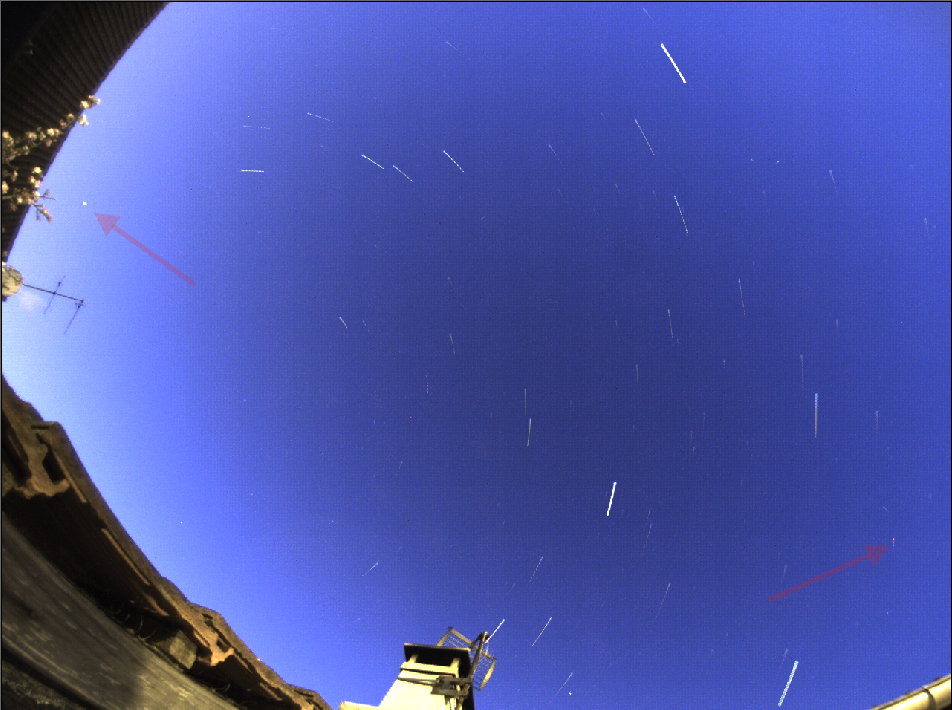 New MovingMax function :
The standard max of the images used to make startrails is calculated with this option only on a subsample [range]
and this subsample is moving step by step in the image pool ...
This creates a virtual startrail as this is not at all a reality and something impossible to look at by any other mean !
It allows to see movement of stars and planets but also fugitive events for a rather long time !
See the meteors and startrail [MovingMax Range 200 | total ~3500 frames], 200 Fps on my Youtube channel :
https://youtu.be/lhk1aB57yyY
2015 ...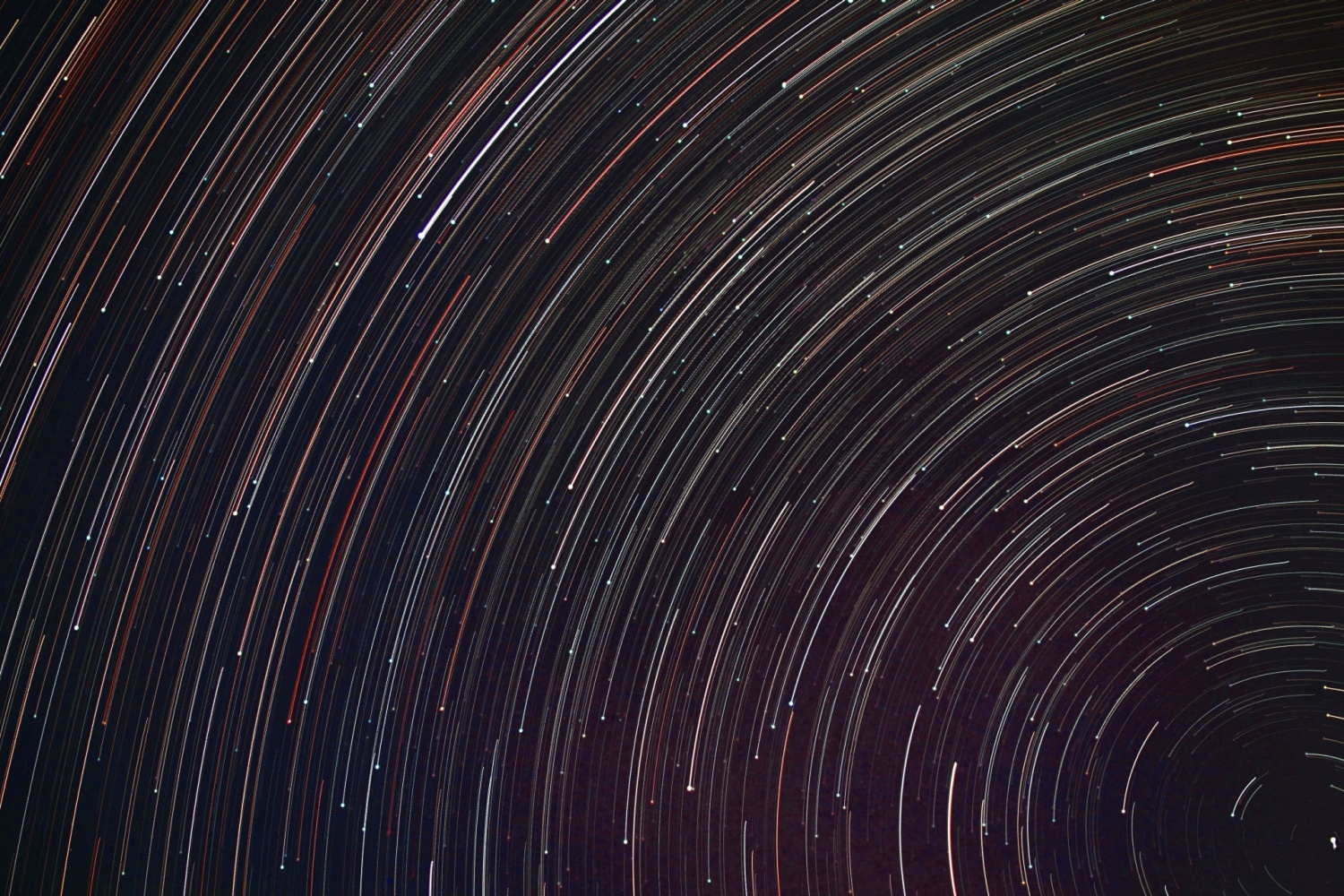 Canon EOS 1100D defiltered Full Spectrum with no additional filter.
283 JPG exposures of 25s every 26s with MagicLantern.
Last enhanced dot with Iris (C. Buil) 2x SBLUR 2 2.
Calculation of min and substraction of it after gamma 80%.
RegiStax6 : LRGB color mixing R0, G 100, B 0
Irfanview Gamma 80 Saturation +40
Click for full size (5MB) ...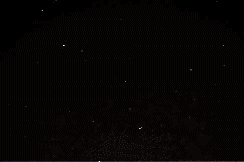 (Equatorial) <-- examples of movies done with Virtualdub from resulting Starmax pictures (rightclick to download DivX) --> (Polar)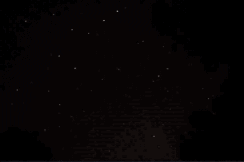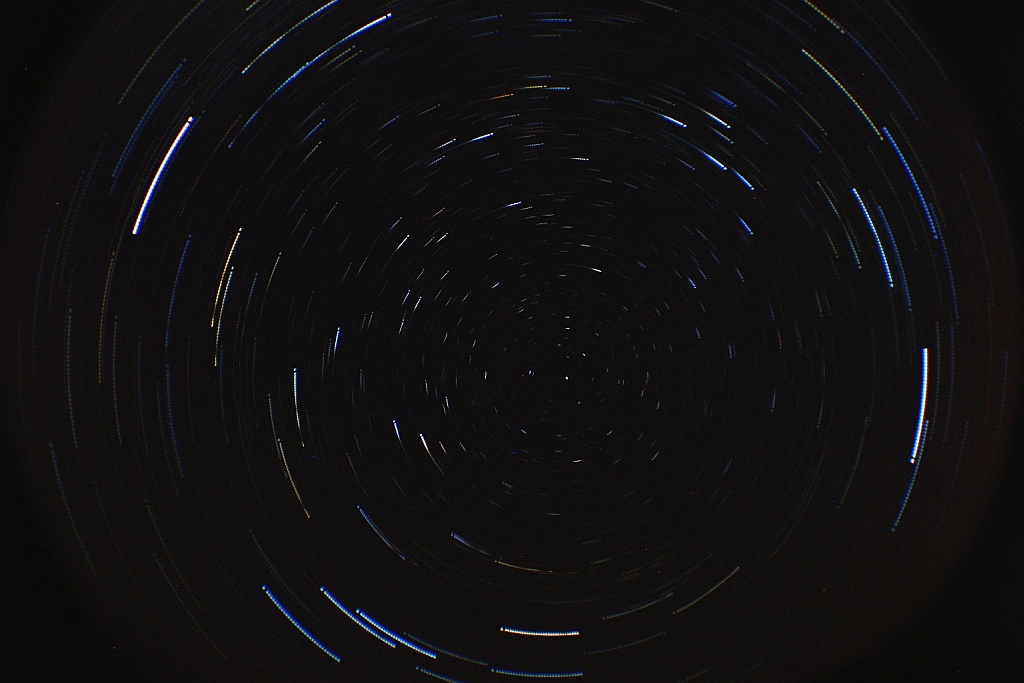 Canon 10D-Pocket Shutter
Individual exposures : 74s at 800 ISO with manual wide angle lens, 1536*1024
Polaris at center
Use of Starmax
20071007-Sotteville-s-mer, 76, France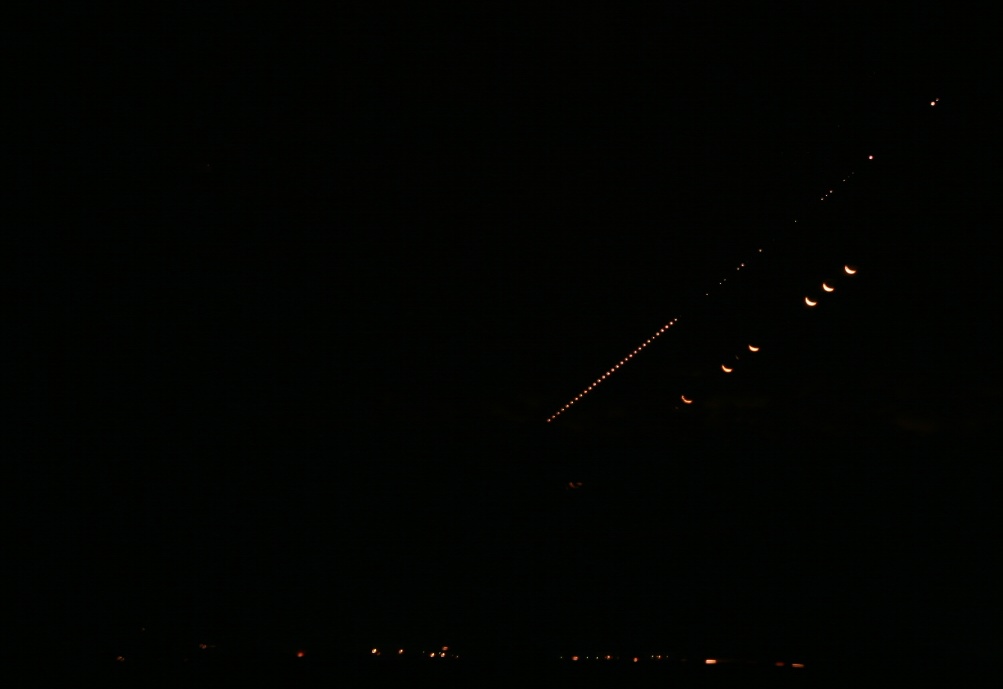 Defiltered Canon 300D-Pocket Shutter
Individual exposures (1 min interval*) : 2s at 800 ISO F5.6 20mm Sigma (18-50 lens), 1536*1024
Use of Starmax
20071008-0309->0508 UT
Sotteville-s-mer, 76, France
* Many black frames due to clouds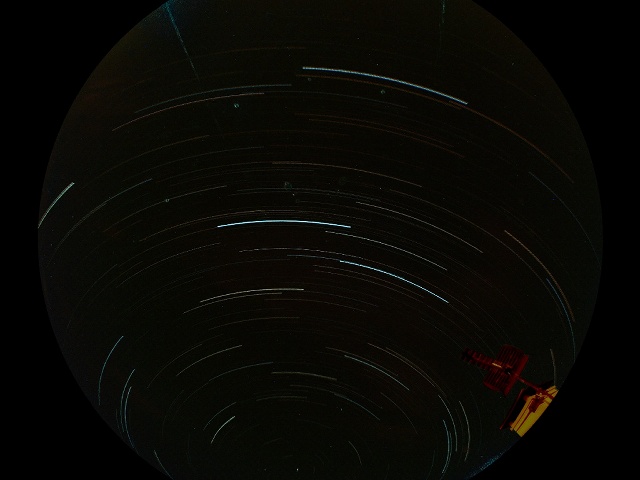 | | | | |
| --- | --- | --- | --- |
| Canon 300D defiltered ! Download image in size : | 1024*768 | | |
See the related astromovie (Divx 5.2.1)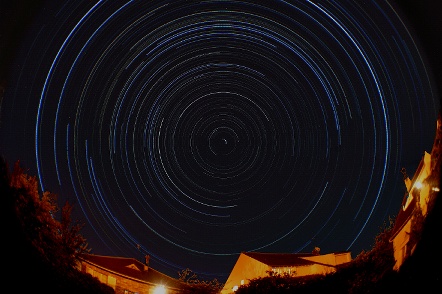 Wallpaper sizes, Hires, easy to upload below !
See the related astromovies (5Mo Divx 5.2.1 versions : 1 & 2)
How was it done ?

A Canon10D mounted on a sturdy tripod and aiming towards Polaris was used to take allnight individual pictures (more than 400)

Optics : an old 28mm Vivitar lens at mid range FD (no marks!) + Marexar Ultrawider front lens attachment bought around 1980 (!)

The fish eye lens was warmed by a home made 6W resistor - see below
(as without it all the process is a failure because of due deposit after an hour or so !)

Power was with a 220V adaptor (no Canon batteries could work that long !)

A sophisticated Pocket Shutter (made by Denis Joye) made non stop 1 min exposures (bulb mode) separated by 7 sec delay (plenty of time for saving JPGs) at 800 ISO,
The resulting images were made into star trails with 0.9 fast dedicated Starmax software (programmed by Gilbert Grillot)

Note : second image and another one later with a giant plane trail were unchecked during add max.
A good deal of work with PaintShopPro permitted to create a mask on the pseudodark frame (AddMin)
with no more stars to keep the house illuminated and to refine contrast and saturation.
The astromovies were created with VirtualDub and are in Divx.
Use about 30cm length (500mA under 12V) of coiled wire from an old 220V hair-dryer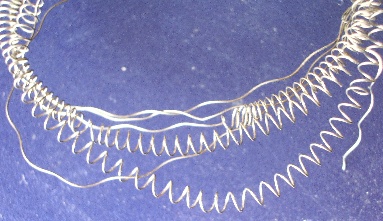 wire is put inside thermo-retractable tubing :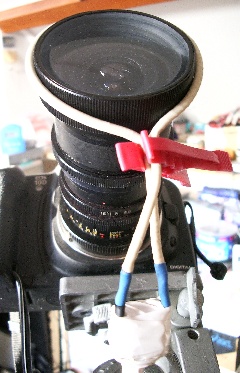 New version 1.8a of StarMax with MeteorMax functions :
In this version, "Maximum search" function is implemented !

Principle : shift-click on a bright point (eg. a bright meteor) in the resulting addmax picture.
Here on the right, the info image window shows at the mouse X/Y/L, the position of the mouse and the luminosity found to start the search.
Then "Maximum search" will find automatically and non-attended the image where the event appears and tell it in a message box !

Download link for Starmax @ Gilbert Grillot website !

Mirror : Download latest Version 2.1g

Note of version : Menu / Batch Operations debugged and reworked (click for full size) :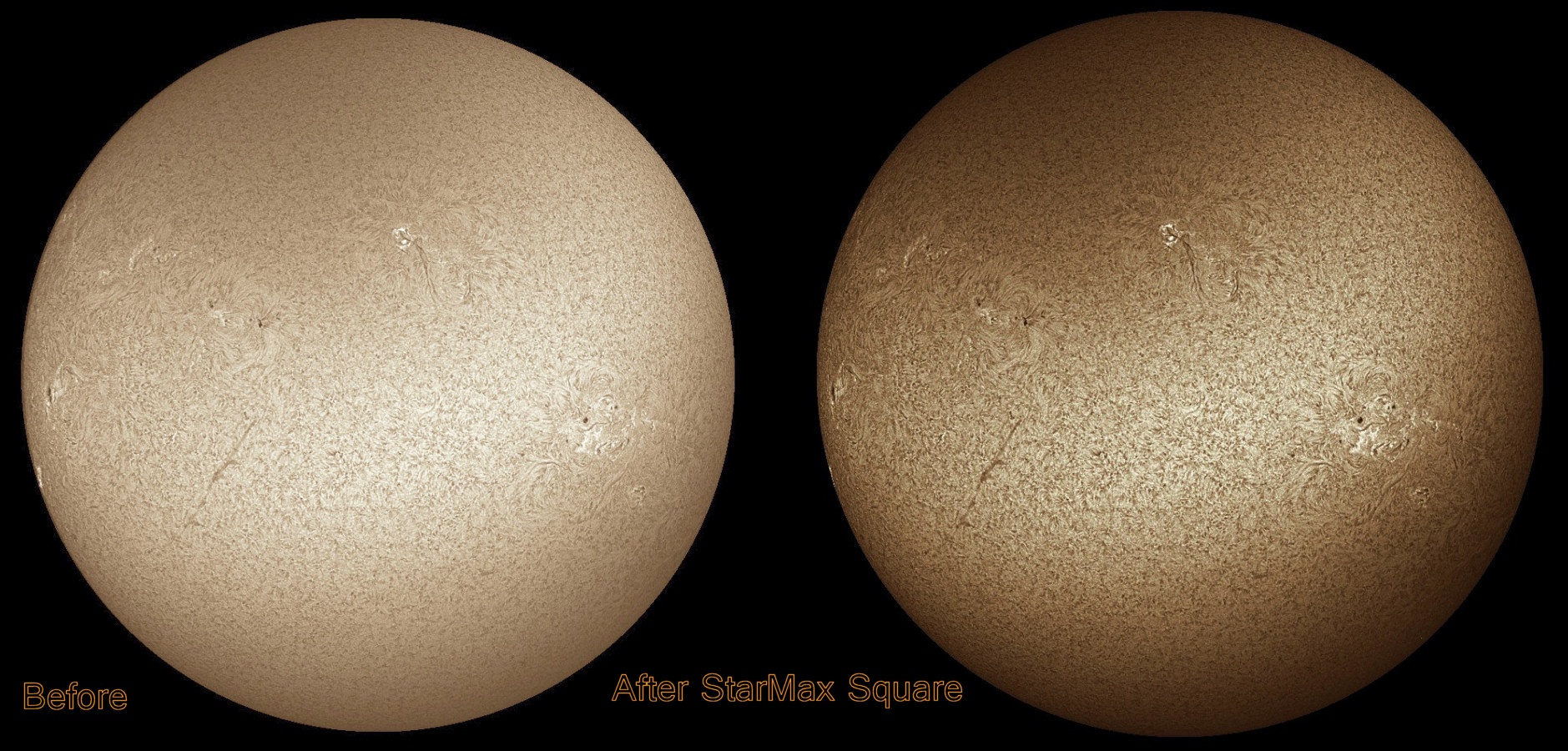 Explanations for single image (note : you can also batch process with apply to list)
Todo list :
- Accept RAWs and videos

An illustration of the Addmin (right) function effect after substraction from Addmax (left),
doing a kind of dark field :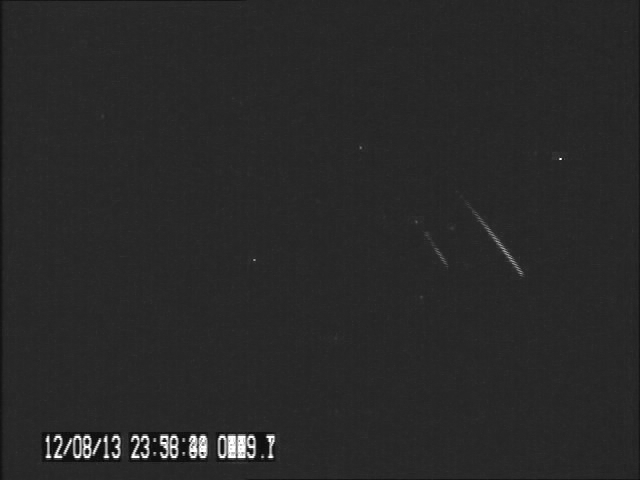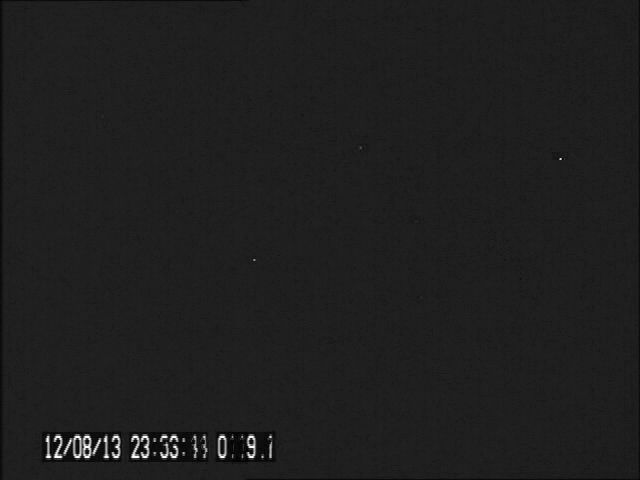 Soustraction result :
"Maximum search" function is also working fine !
FREE for personal use only. Entities & commercial use, do contact us ...

By using this homemade freeware you fully agree that this is exclusively at your own risks !
Antivirus checking has been performed with Avast before before release :

IMPORTANT : if the program hangs (generally in Win 8.x) it is the fault of 'Windows SmartScreen', please de-activate it !
If you agree to above conditions, click here to start StarMax download ....
Download Previous Version Starmax2.1g
No installation required ! But it is a must extract the ZIP file.
Placing StarMax in Windows 'Program Files (x86)' is not recommended ... much better to create / use a personal folder ... 'C:\Program Files (x86)32' is a good name for people softwares !
Please support StarMax development, if it worked great for you,
by crediting StarMax use, in the description of your successful Internet video / picture publications !
Also if you like to help for another language (German, Spanish, Russian, etc ... ), please contact us !
Note : other example of StarMax v2.5 MovingMax possibilities outside of astronomy field : https://youtu.be/yg6W9DOqNHg
StarMax was presented at the RCE 2016 (Rencontre du Ciel et de l'Espace, Nov 13, 2016 at la Cité des Sciences de la Villette, Paris)
A special and large (30MB) PDF file with lots of slides (and explanations -sorry- in French) can be downloaded by clicking here
Mentions légales :
Application gratuite pour utilisation personnelle. Organisations ou utilisation commerciale : nous contacter.

Par le fait d'utiliser ce programme gratuit vous êtes pleinement conscient que c'est uniquement à vos risques et périls !
Une vérification antivirus est faite avec Avast avant toute mise en ligne :

IMPORTANT : si le programme se bloque (générallement dans Win 8.x) c'est la faute à 'Windows SmartScreen', SVP le desactiver dans le Panneau de Configuration / Maintenance !
Si vous êtes d'accord avec les conditions ci-dessus, cliquez ICI pour télécharger StarMax ....
StarMax a été présenté aux RCE 2016 (Rencontre du Ciel et de l'Espace, 13 nov 2016 à la Cité des Sciences de la Villette, Paris)
Un PDF de 30MB avec de très nombreuses diapos et leur explication peut être téléchargé en cliquant ici
Download Previous Version Starmax2.1g
Pas d'installation requise ! Il est obligatoire d'extraire à partir du ZIP dans un répertoire personnel !
Il est déconseillé de placer StarMax et le répertoire de langues dans le répertoire Windows 'Program Files (x86)' ...
par contre 'C:\Program Files (x86)32' est un nom correct pour ce style de programmes d'amateurs.
Merci d'encourager le développement de StarMax - s'il vous a satisfait - en mentionnant son utilisation
dans la description de vos publications d'images ou de vidéos sur Internet !
Aussi si vous voulez aider pour une autre langue supportée (Espagnol, Allemand, Russe, etc. ) nous contacter !
Note : autre exemple de possibilités de StarMax v2.5 MovingMax en dehors de l'astro : https://youtu.be/yg6W9DOqNHg
(Note : Pour passer à la version anglaise, dans Aide choisir Traduire / En-English)