SOLAR ECLIPSES
March 20, 2015 (~08:23 .. 10:40 UT)/ Partial Solar Eclipse / FRANCE
Click on pictures for full size
Pictures with Powershot SX230HS behind PST.
Crossed-eyes vue 09:58 + 10:07 UT
Right click to download here for 3D TV view
Near maximum of eclipse 09:32 UT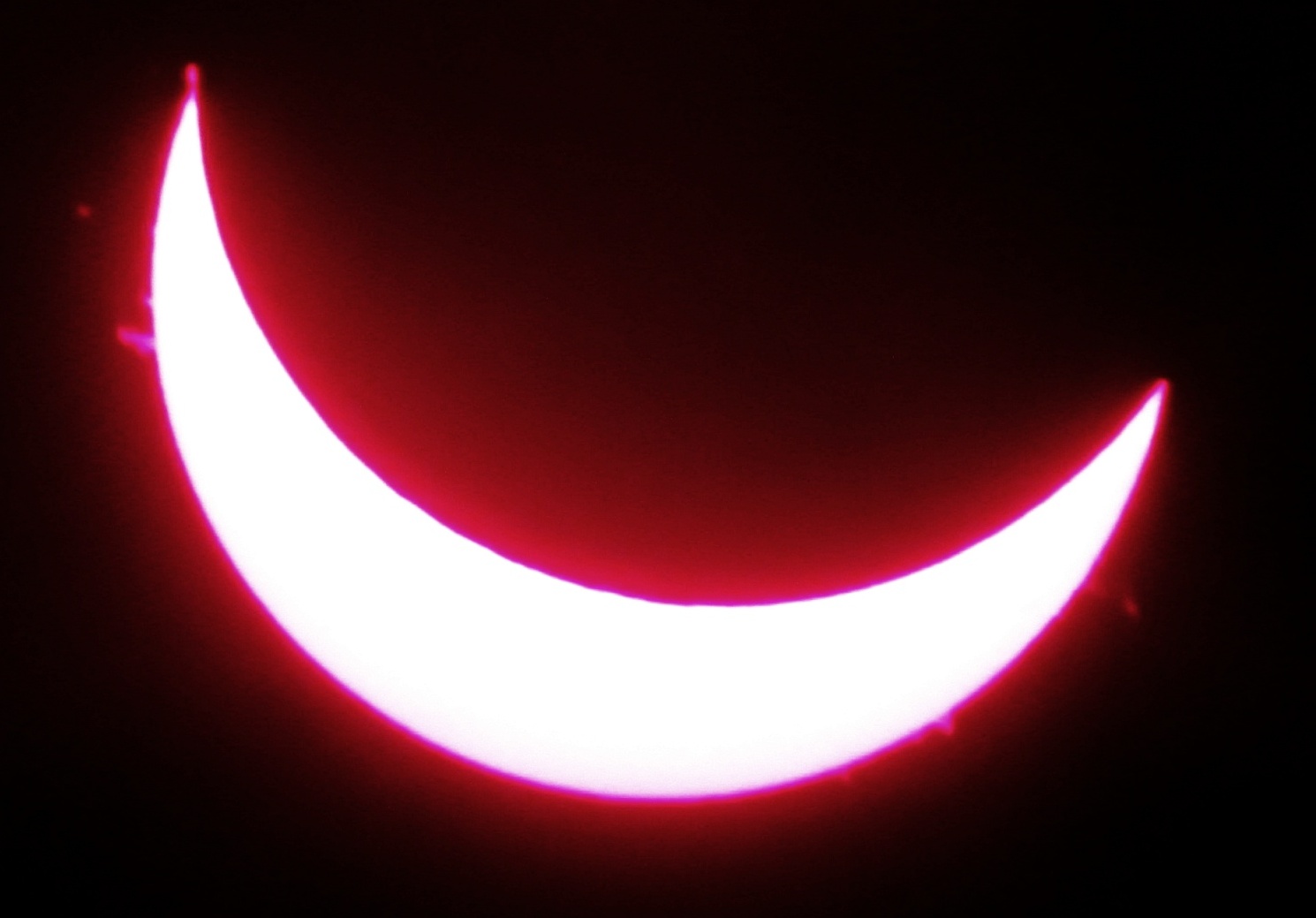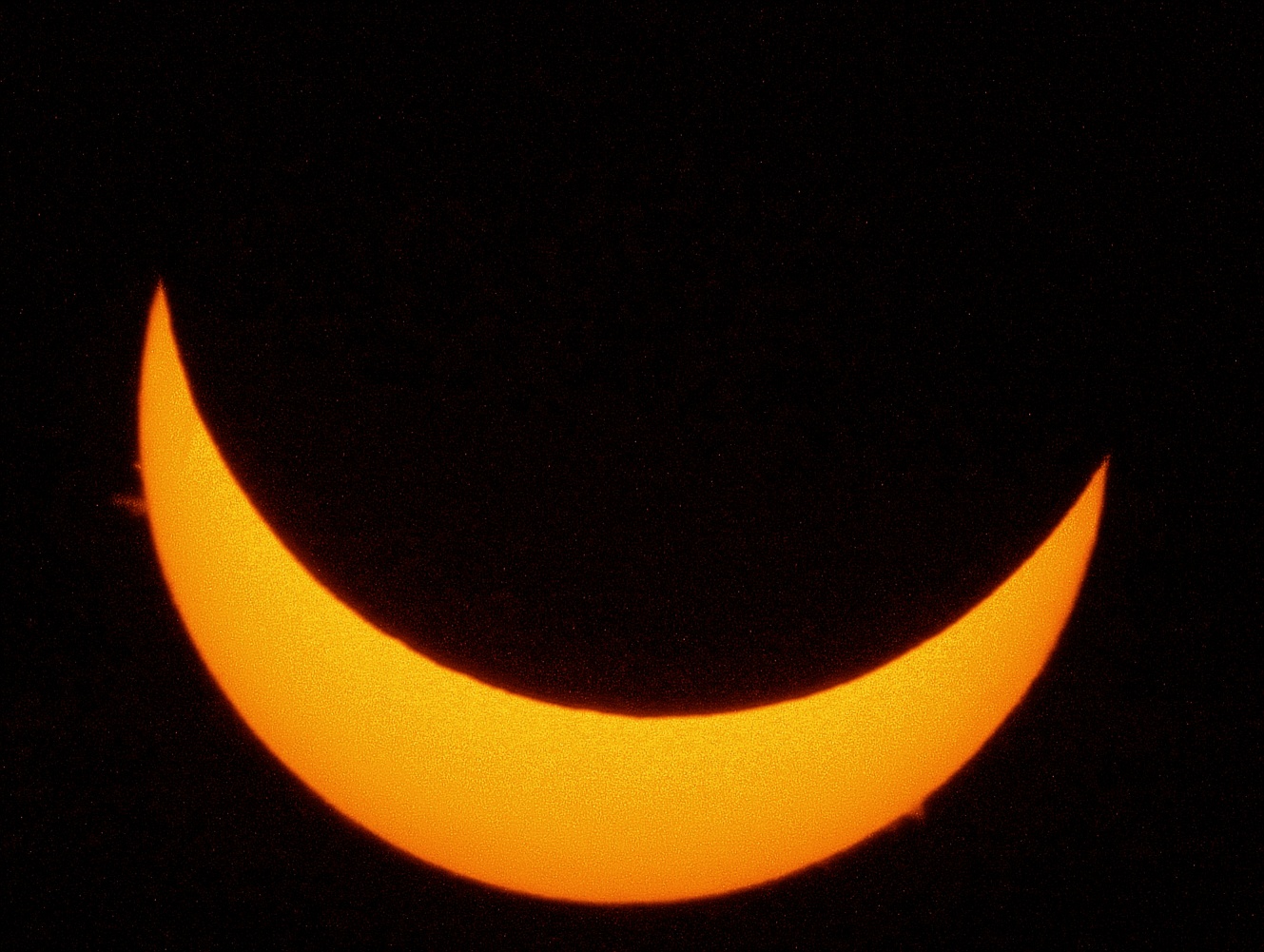 Later (10:14 UT) ...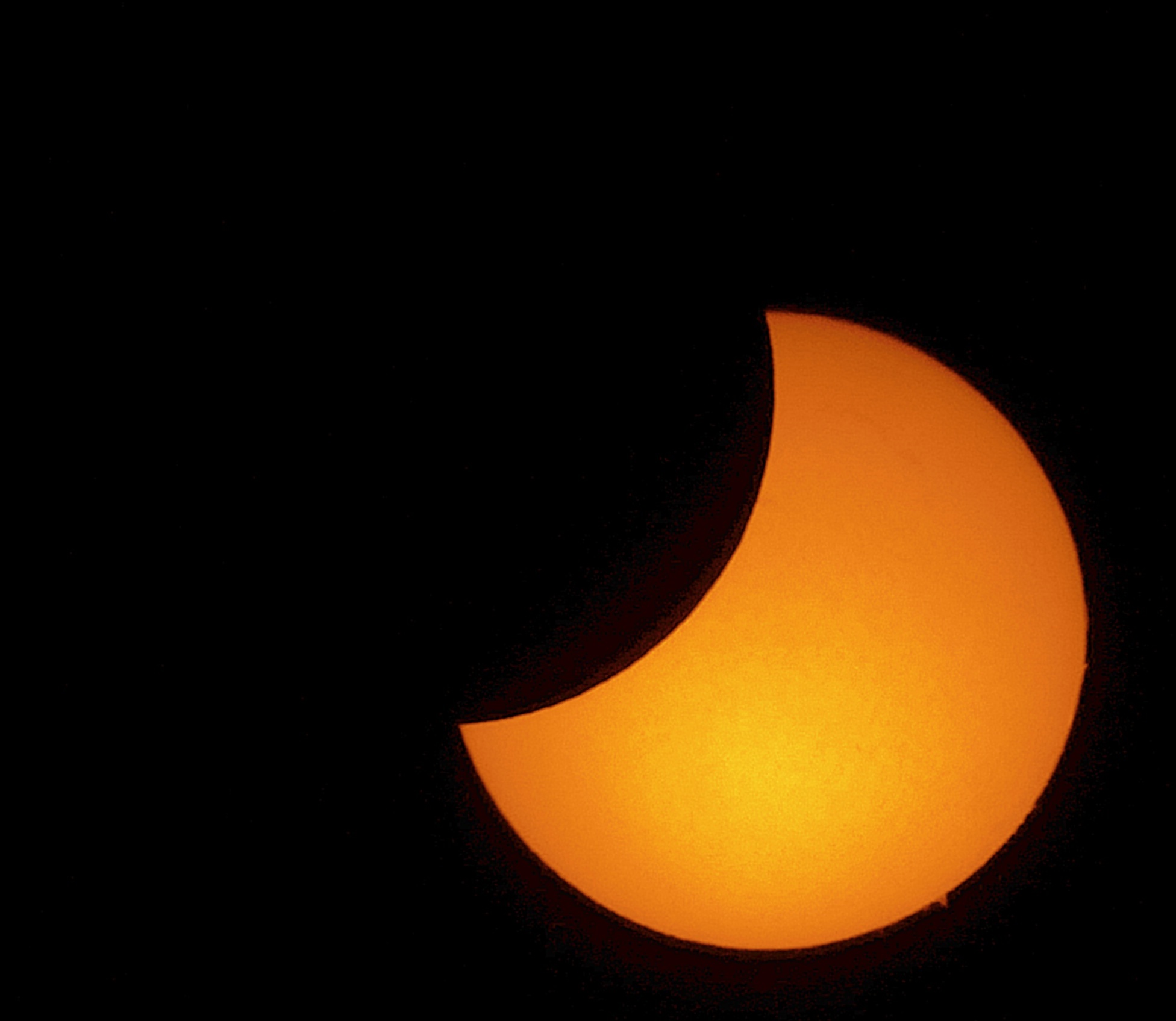 Near end of eclipse (10:39 UT)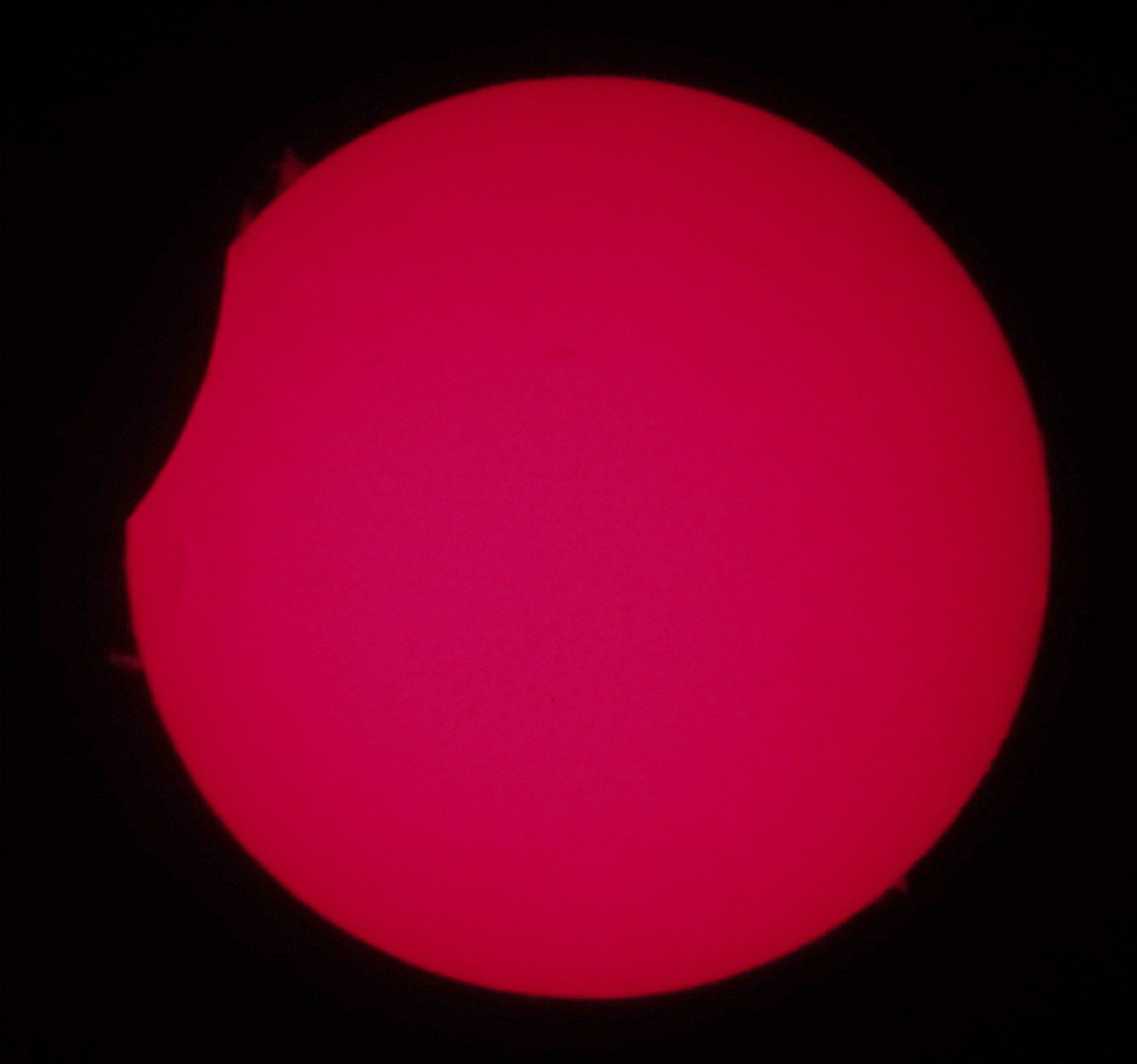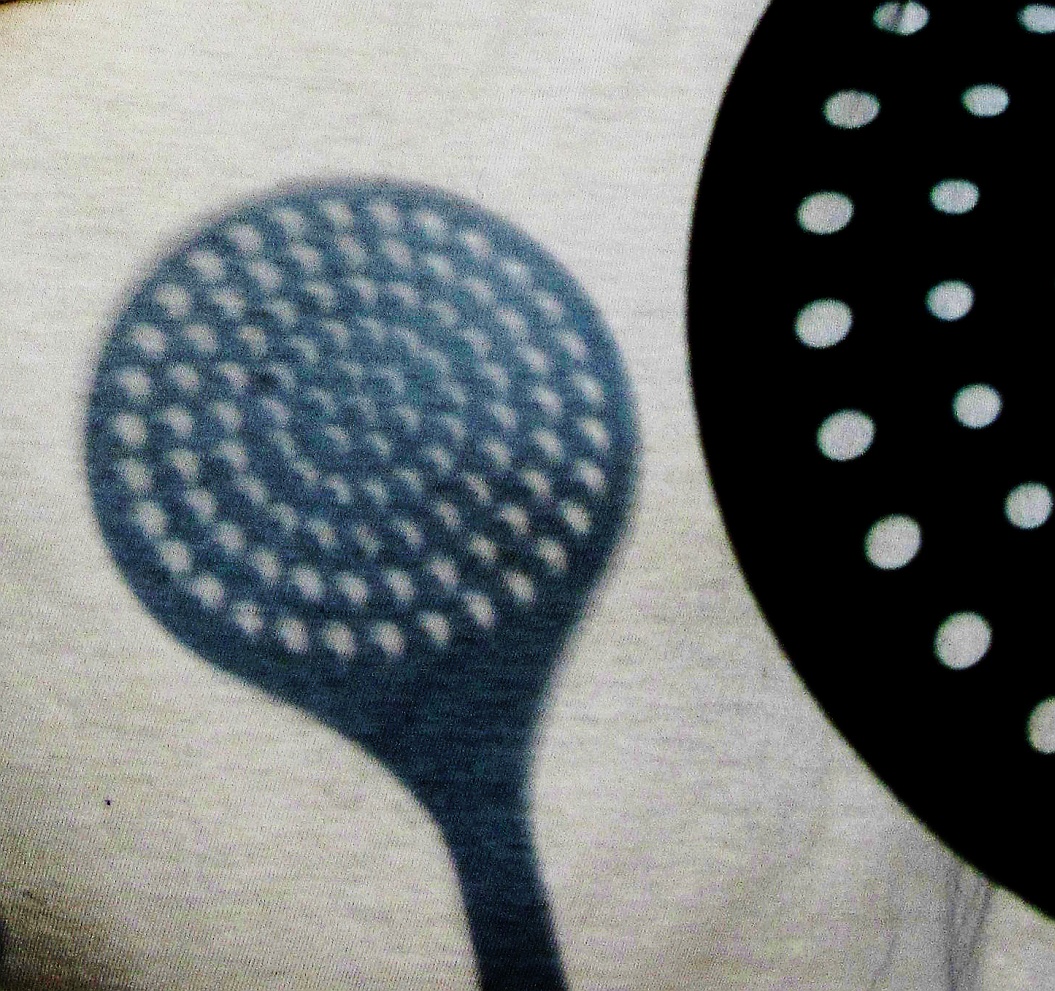 The best moments ...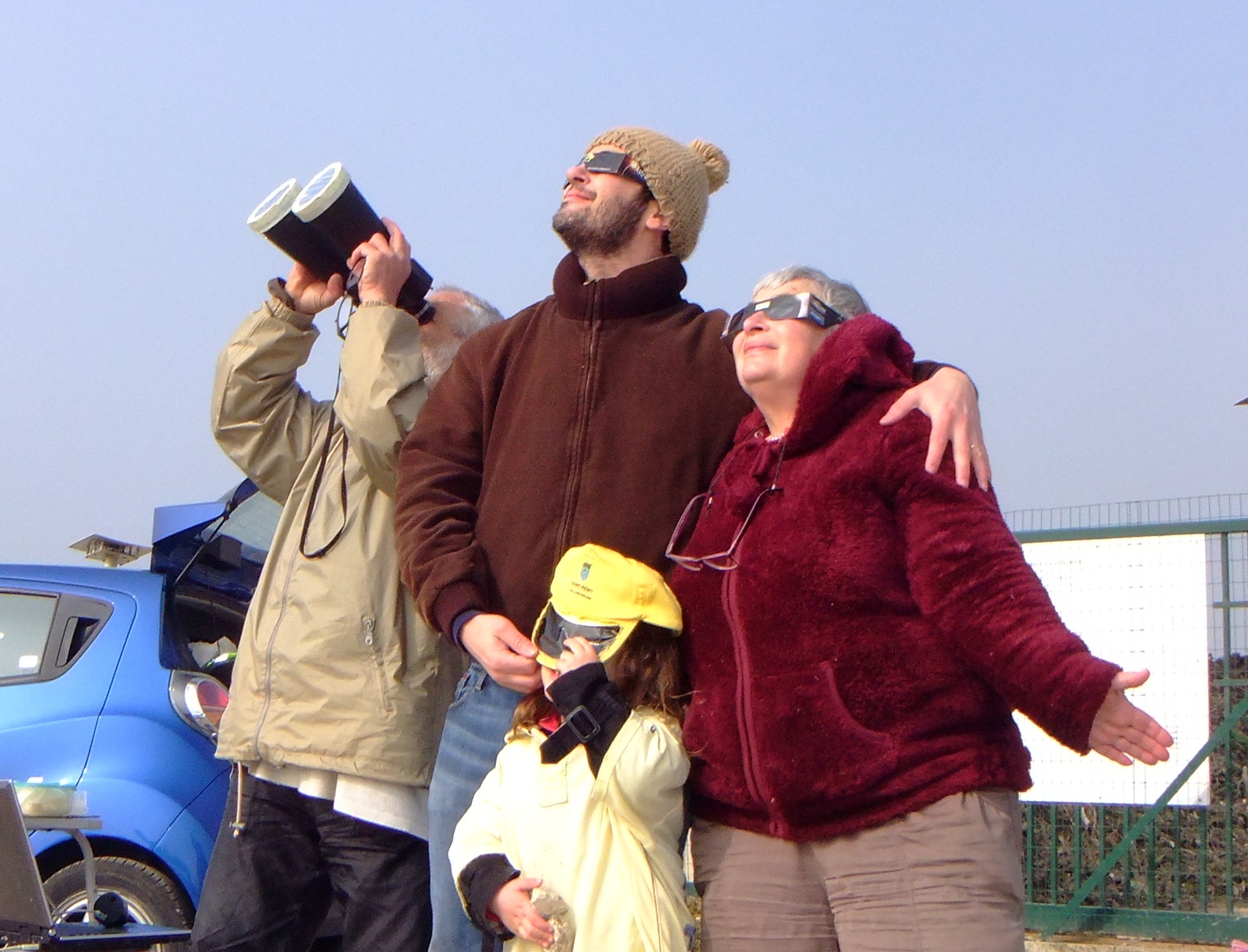 The really worst ones !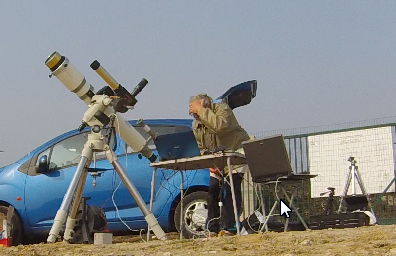 ...
because below is what the project was with the Coronado SM90 (here reconstruction from recent solar Halpha pictures with Corono software) !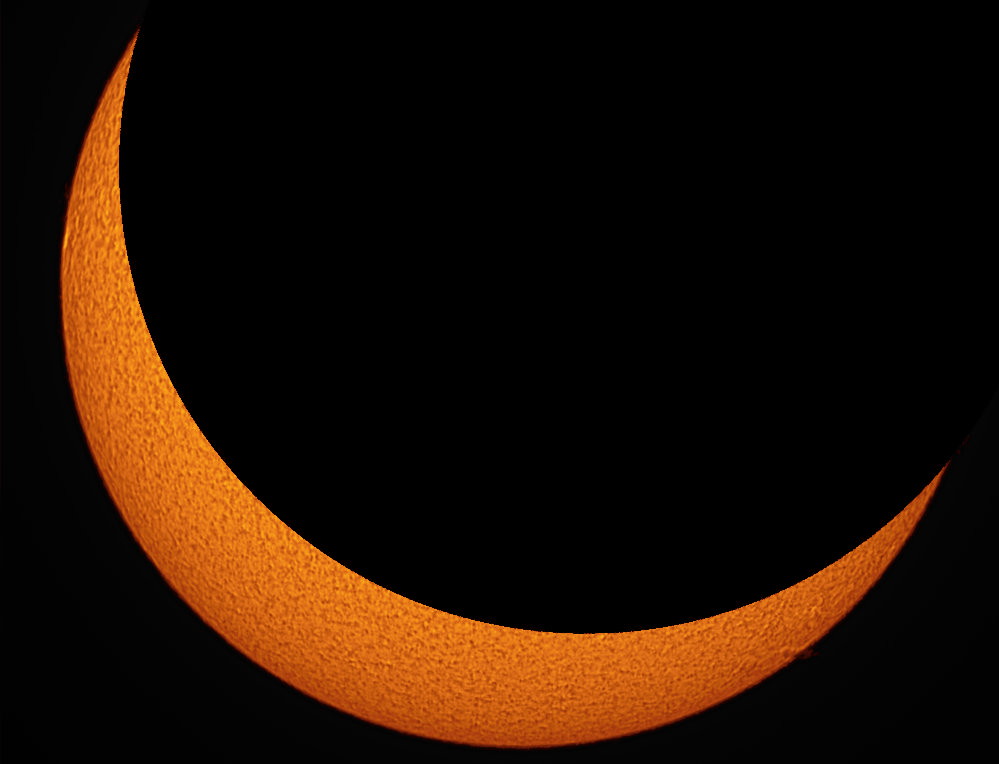 July 22, 2009 / Total Solar Eclipse / CHINA

Remainder : No reproductions of any kind or broadcastings without written (email) permission !
CHAPTER I : ASTROMOVIES
(in construction)
See the longest Total Solar Eclipse of the century (really until June 13, 2132 in Cuba !)
almost as if you were beside me in Tianhuangping Ski resort, alt ~1000m, China
| | |
| --- | --- |
| | |
| Wide angle view of the start of totality (Casio FC100, original video with sound, 8Mo) | Same as left but registered on the Sun with Astrosnap (Axel Canicio) and darkened for a more realistic sight, 8Mo) |
Below, astromovie of the integrality of the eclipse realised with a DCR-PC Sony camcorder in manual exposure mode and at maximal optical zoom placed on an equatorial Perl-Vixen mount.
(Choose Codec then click on image or right-click on image to download the astromovie to your hard disk (only for personal viewing)
(Note : Xvid / Divx CODEC required)
8Mo / Full length 6:10 min (DIVX compression 145 kbps)

5Mo Full length 6:10 min (XVID compression 20x)
Note for DVD-publishers or broadcasting :
Same movie in full size, HQ sound, lossless CODEC (~1.7Gb) or high quality down to a dozen Megs or MPEG available on demand !
CHAPTER II : IMAGES during TOTALITY
(in construction)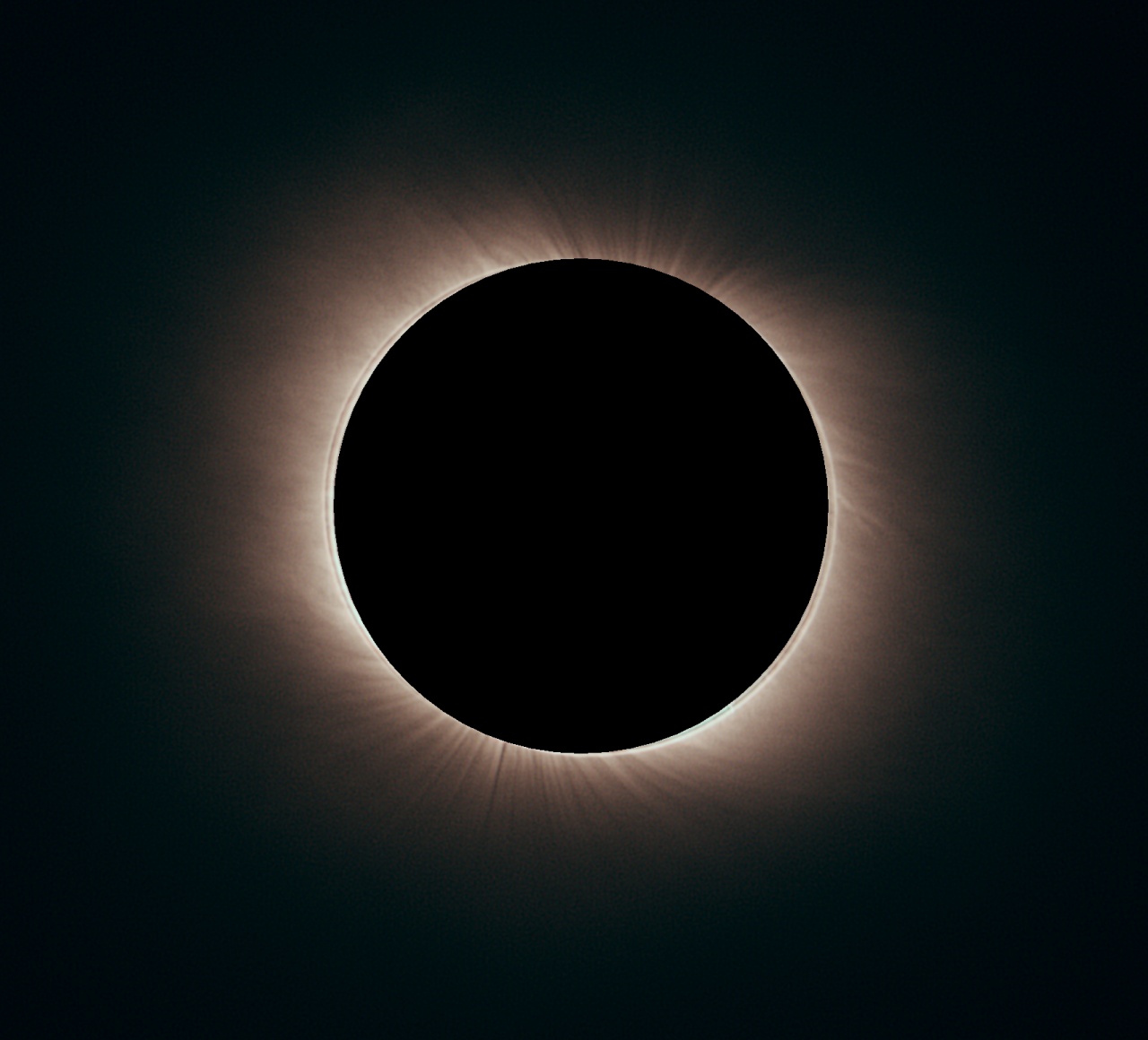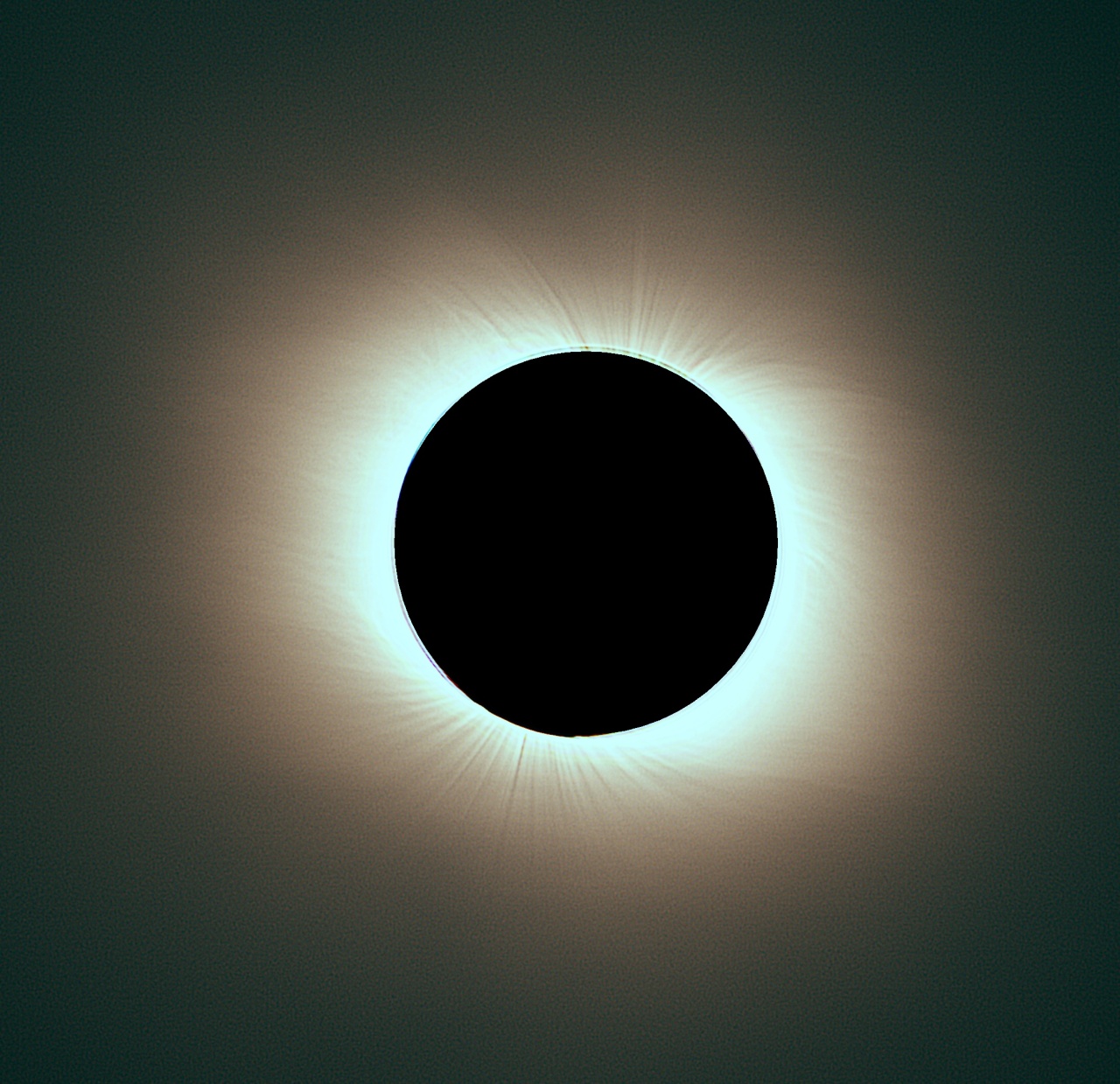 Both images above : To show the solar coronal extensions even with many clouds passing by, a few pictures have been choosen
with about the same density (top image corresponding to shorter exposures) to be manually coregistered in Registax5 on a spike base.
Multiple lunar rings (the Moon is moving !) have been all but replaced by a single drown black circle.
Note : North is almost upwards ...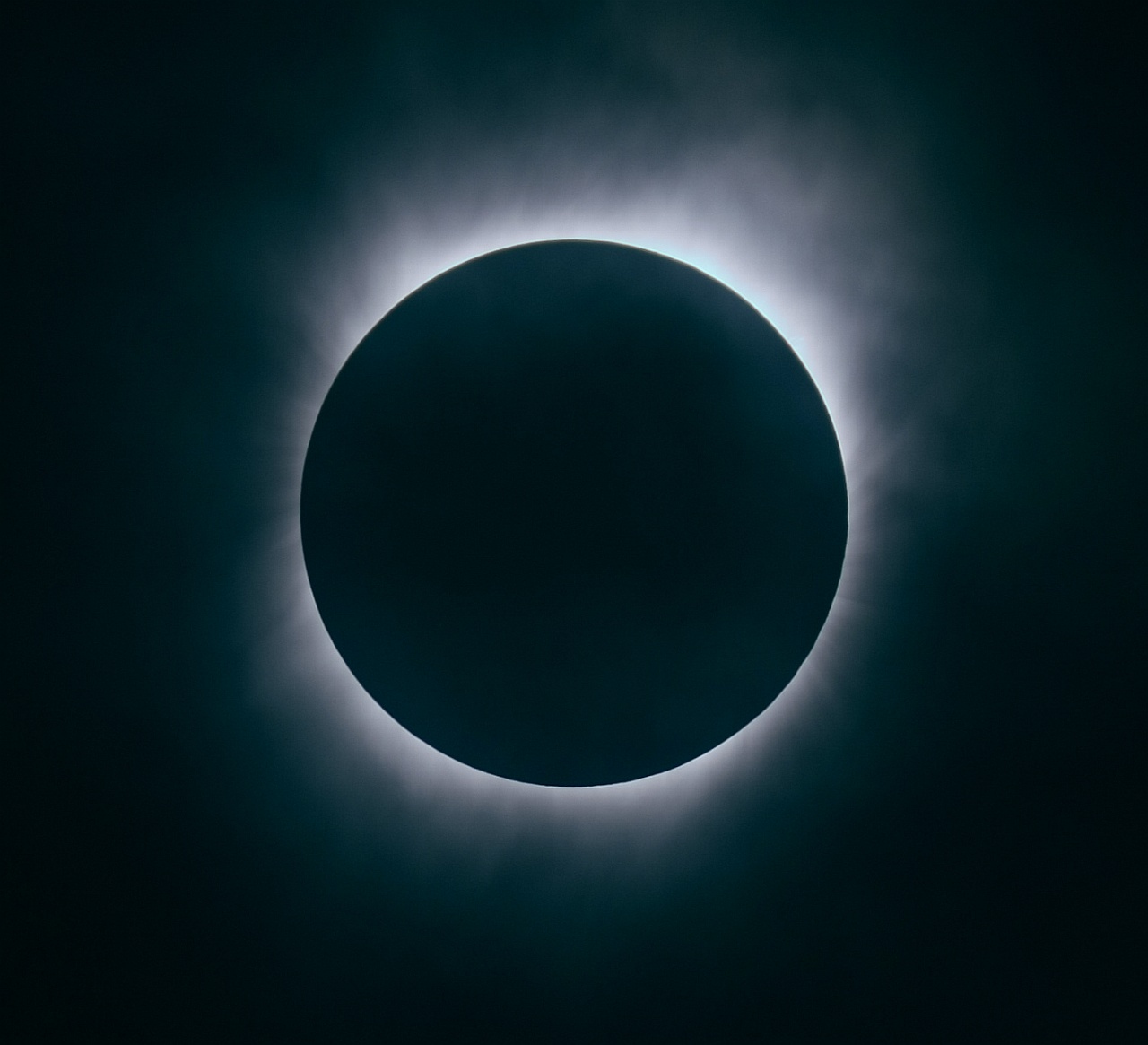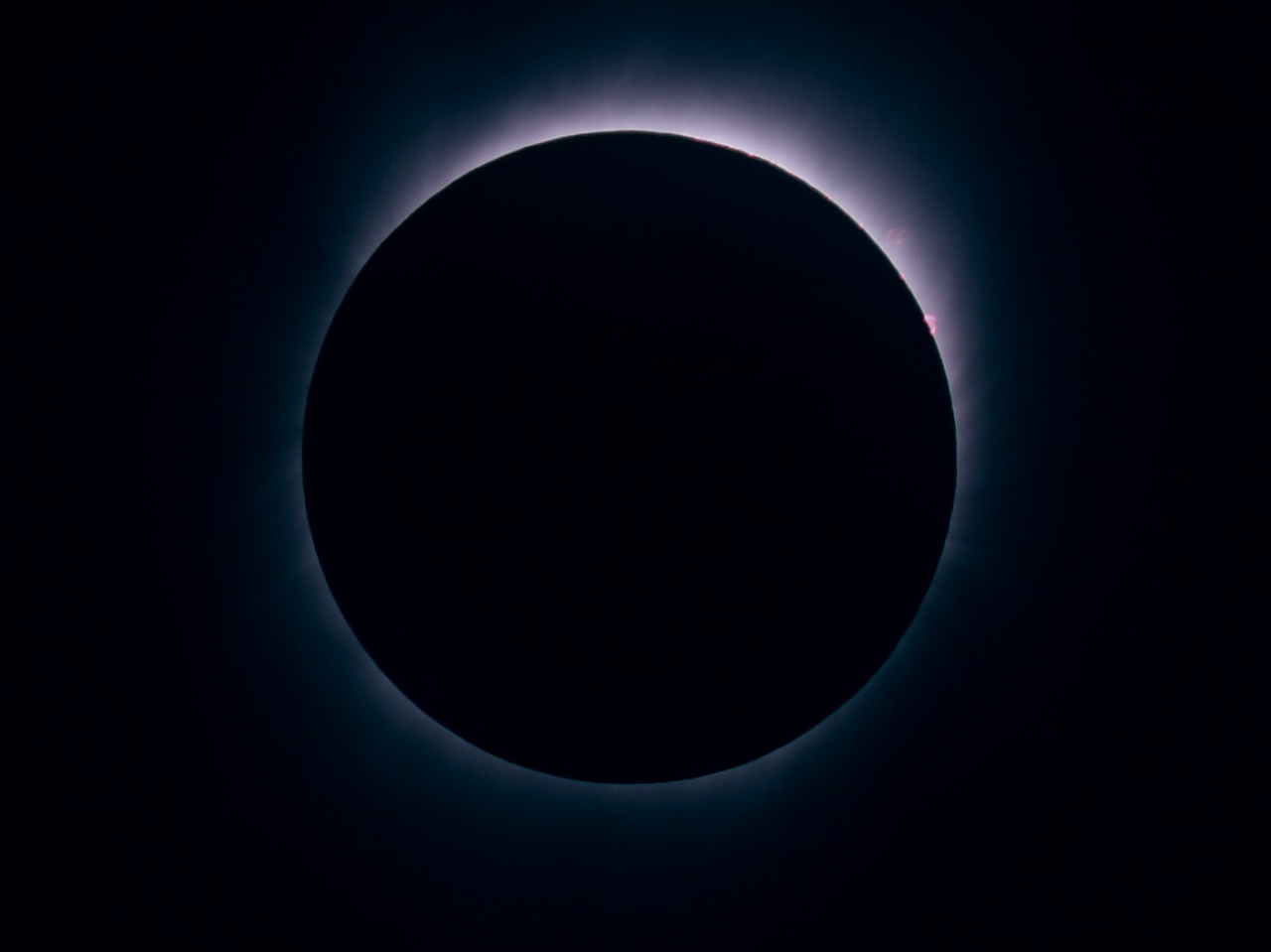 CHAPTER III : ECLIPSE, PARTIAL PHASES IMAGES
(in construction)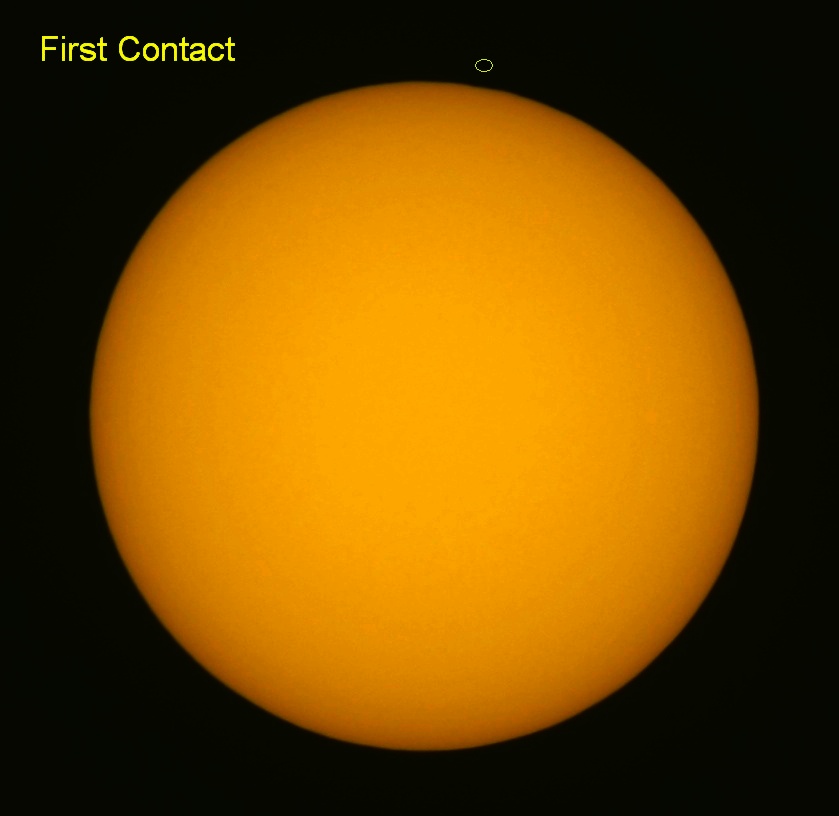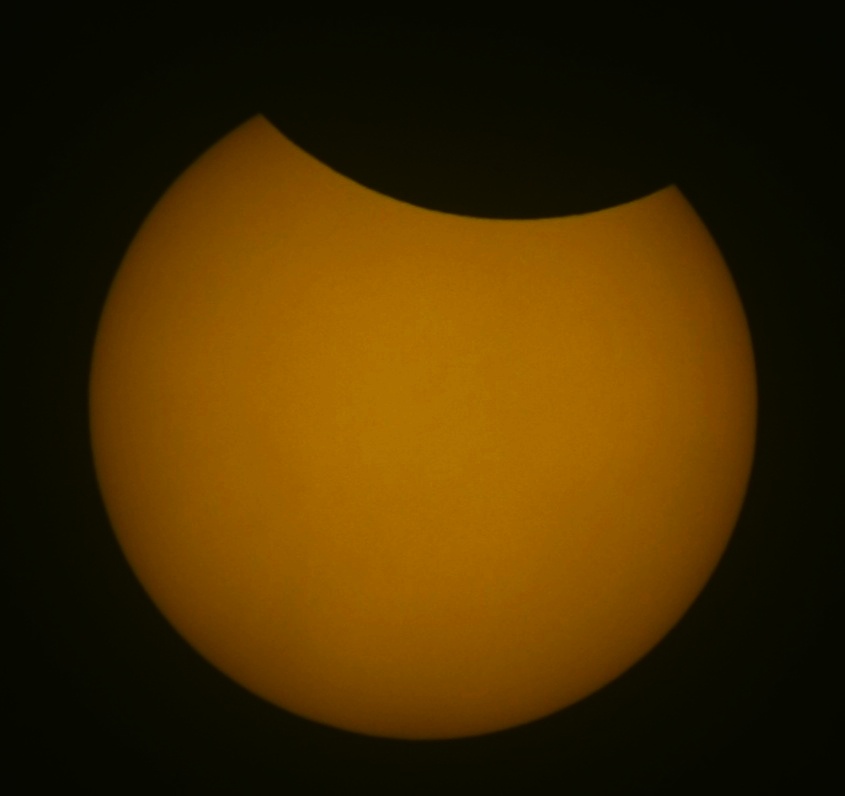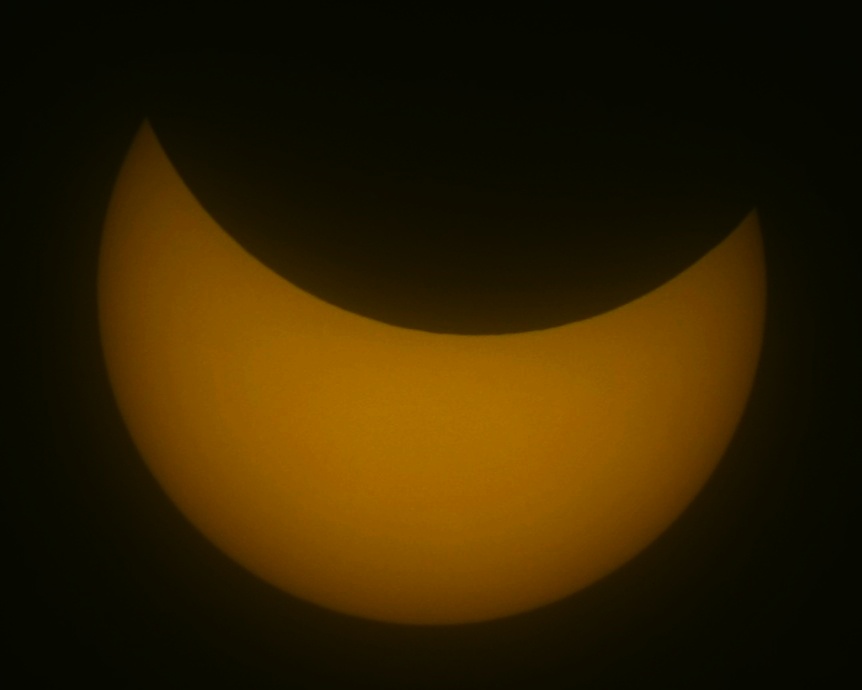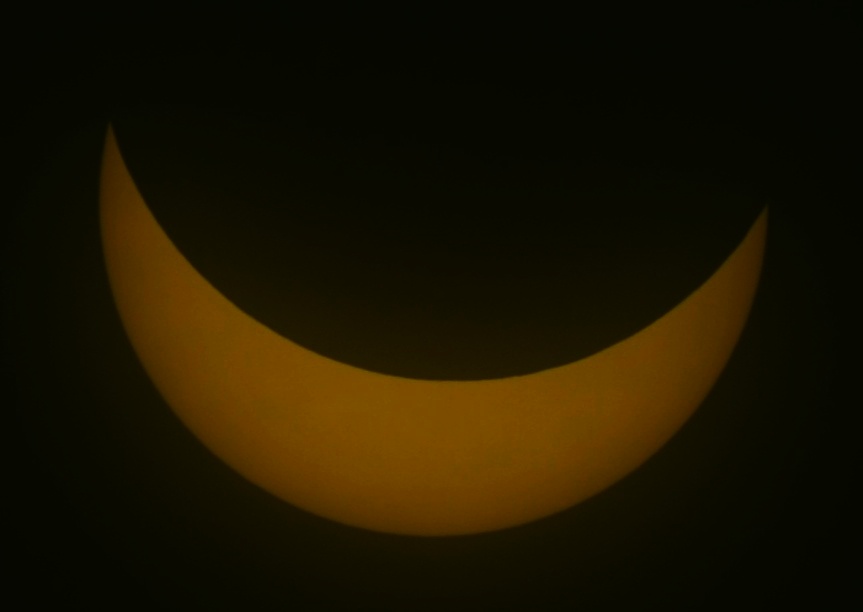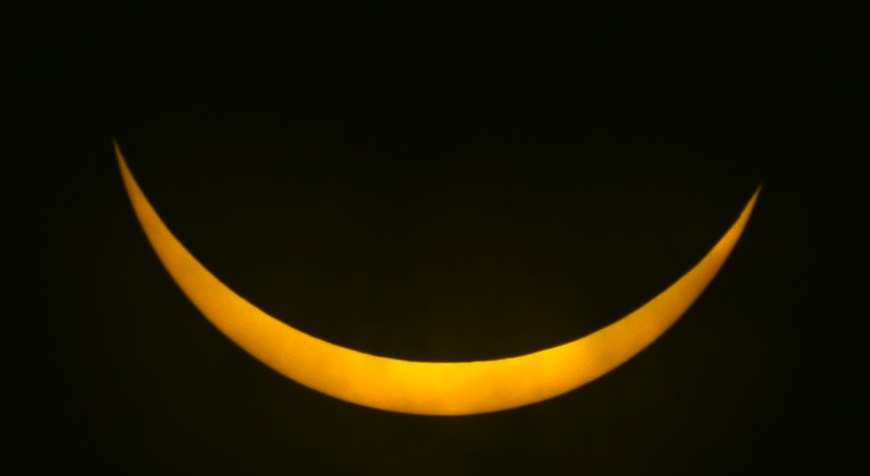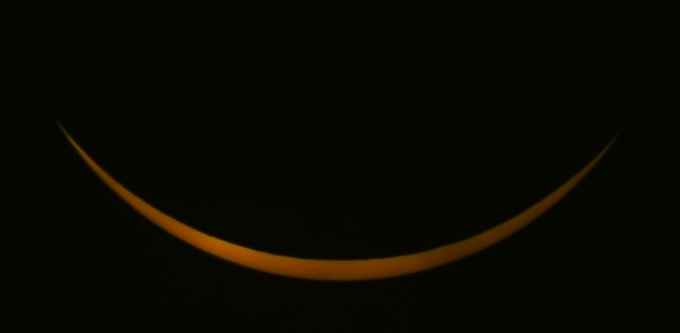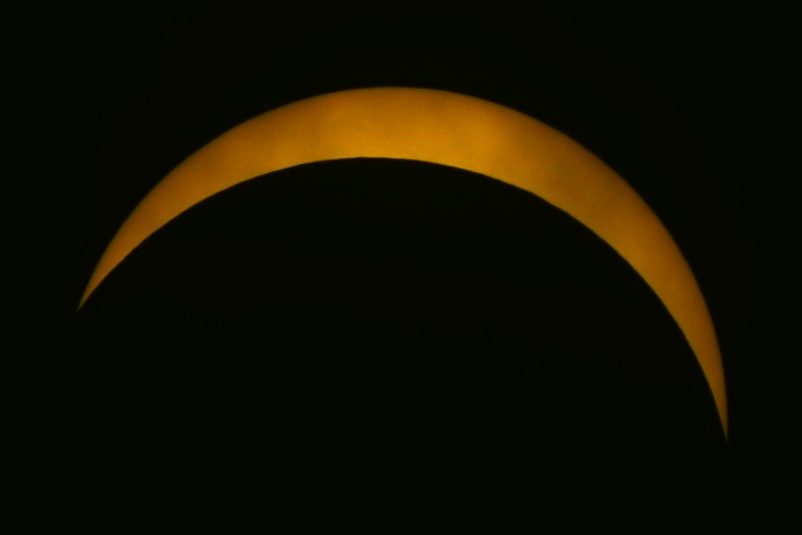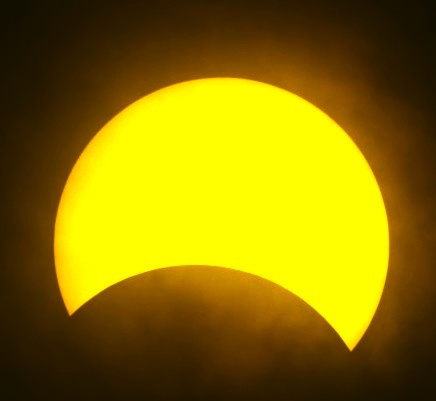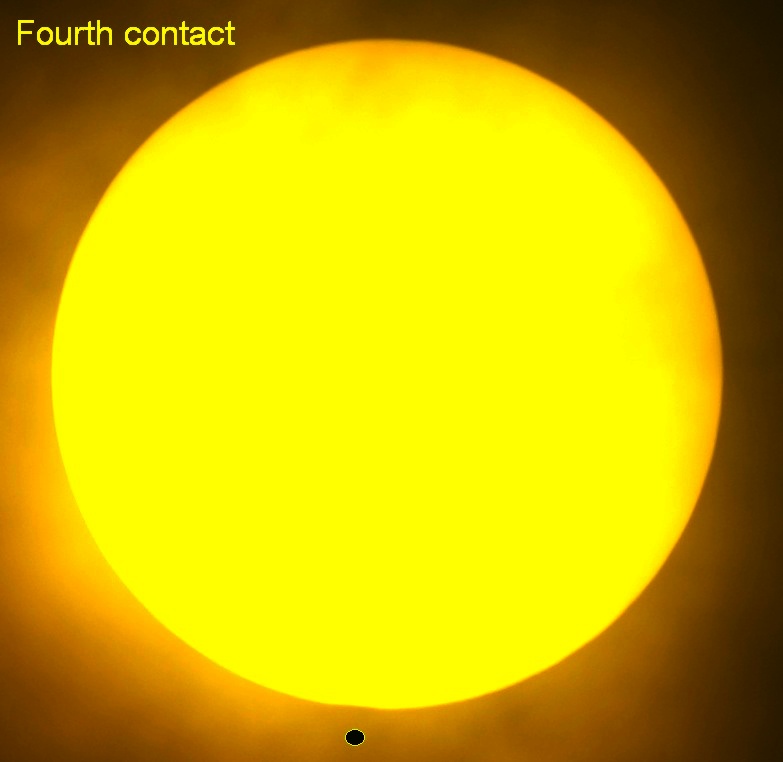 CHAPTER IV : TIANHUANGPING (SKI RESORT) IMAGES
(in construction)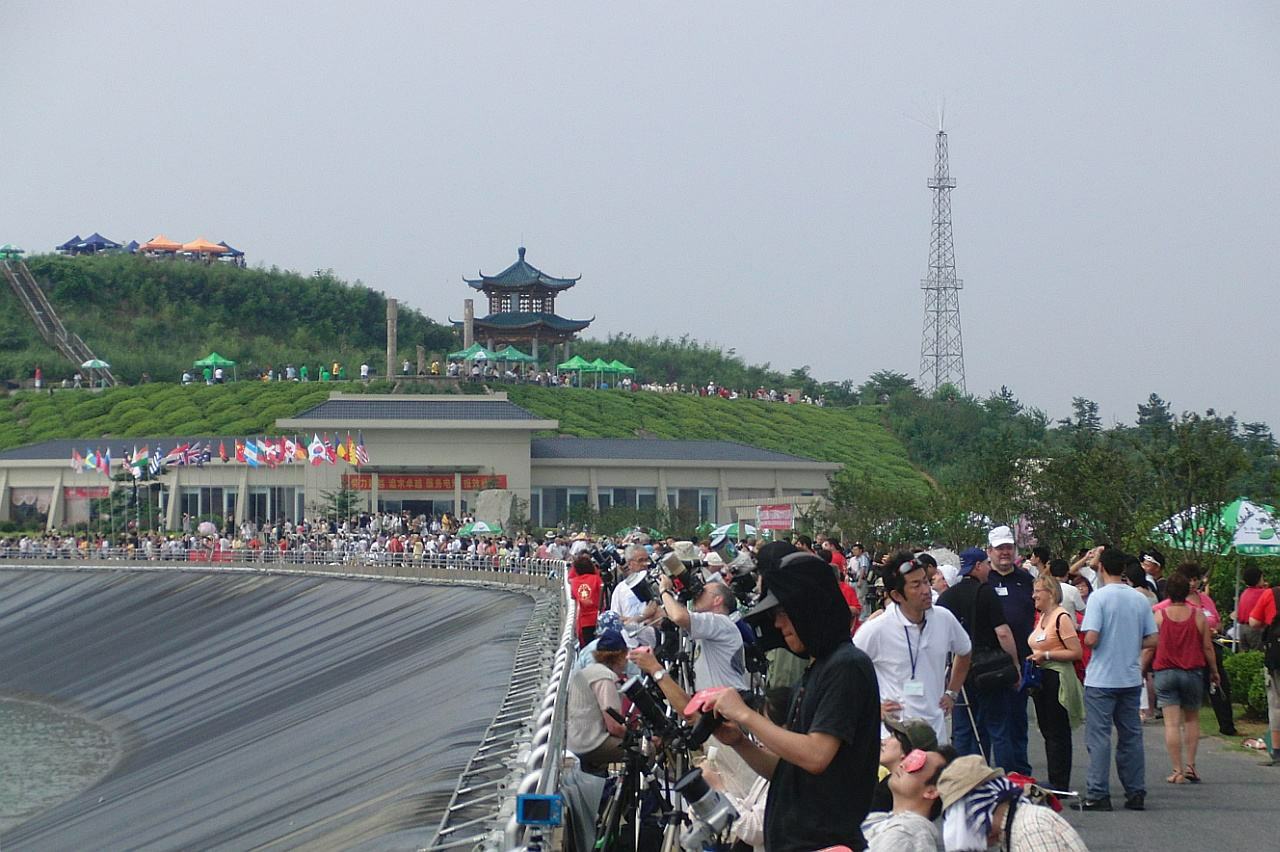 Thousands of people gathering around the artificial lake with their equipment minutes before the total solar eclipse

Many scientists teams from many countries (China, India, Europe, US, etc) setting their equipment / experiments for days
here or elsewhere (hotel, local observatory) around the lake to be ready for the coming total solar eclipse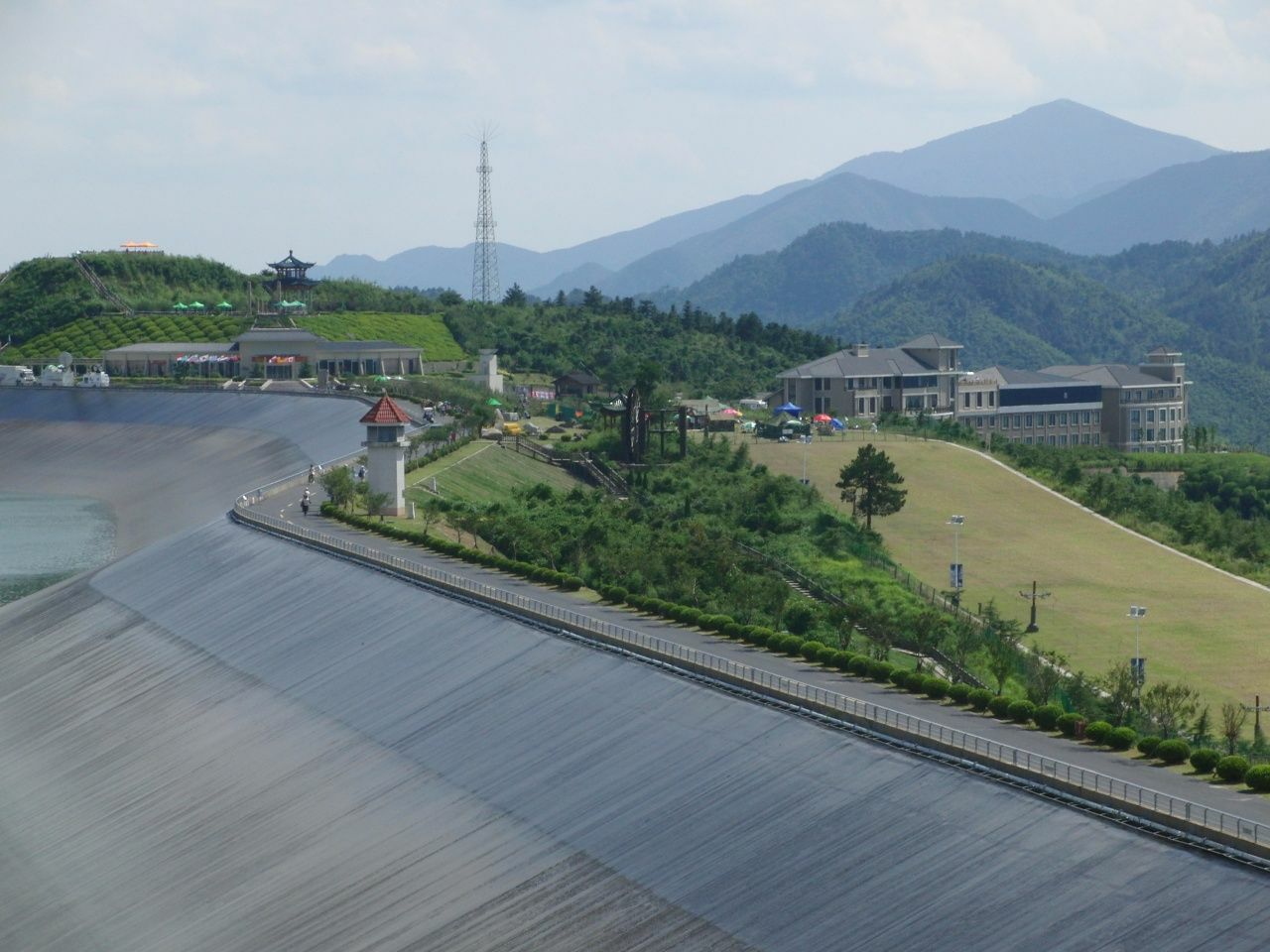 On this picture taken the day before the eclipse you can see from left to right :
The cars with big antennas for live TV transmissions and interviews, the resort visitor building, a wooden water mill (8Mo AVI), the equipment tents of many astronomers, the ski area covered with grass and the main grand hotel !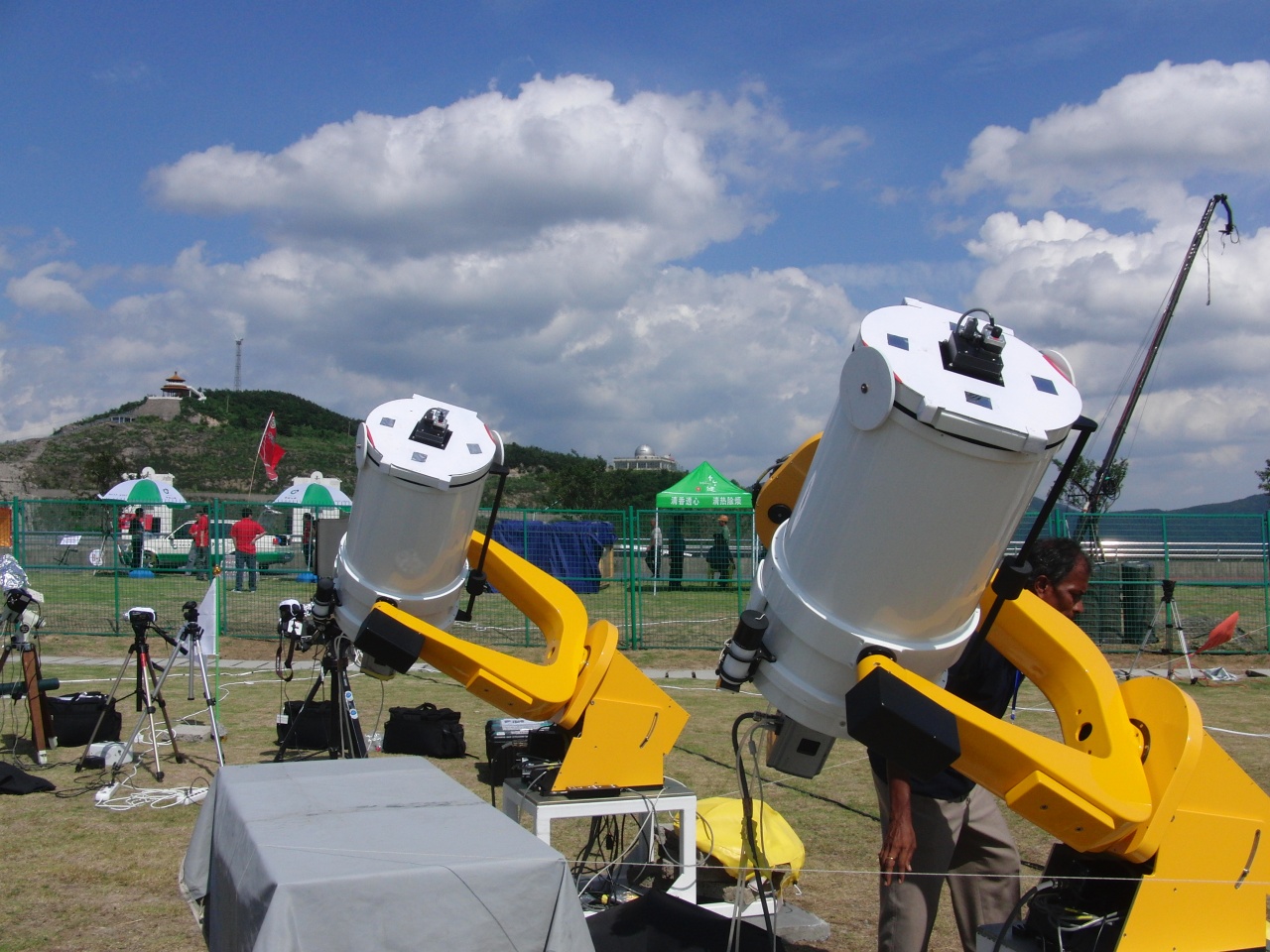 In front, huge 16" telescopes (Indian Institute of Astrophysics, Bangalore) and also seen far away on the other side of the lake, on the hill,
the professional observatory where radioastronomy of the eclipse has been done and on the very top left a large pagoda !
Part of the French Team, almost ready, an hour before the event :)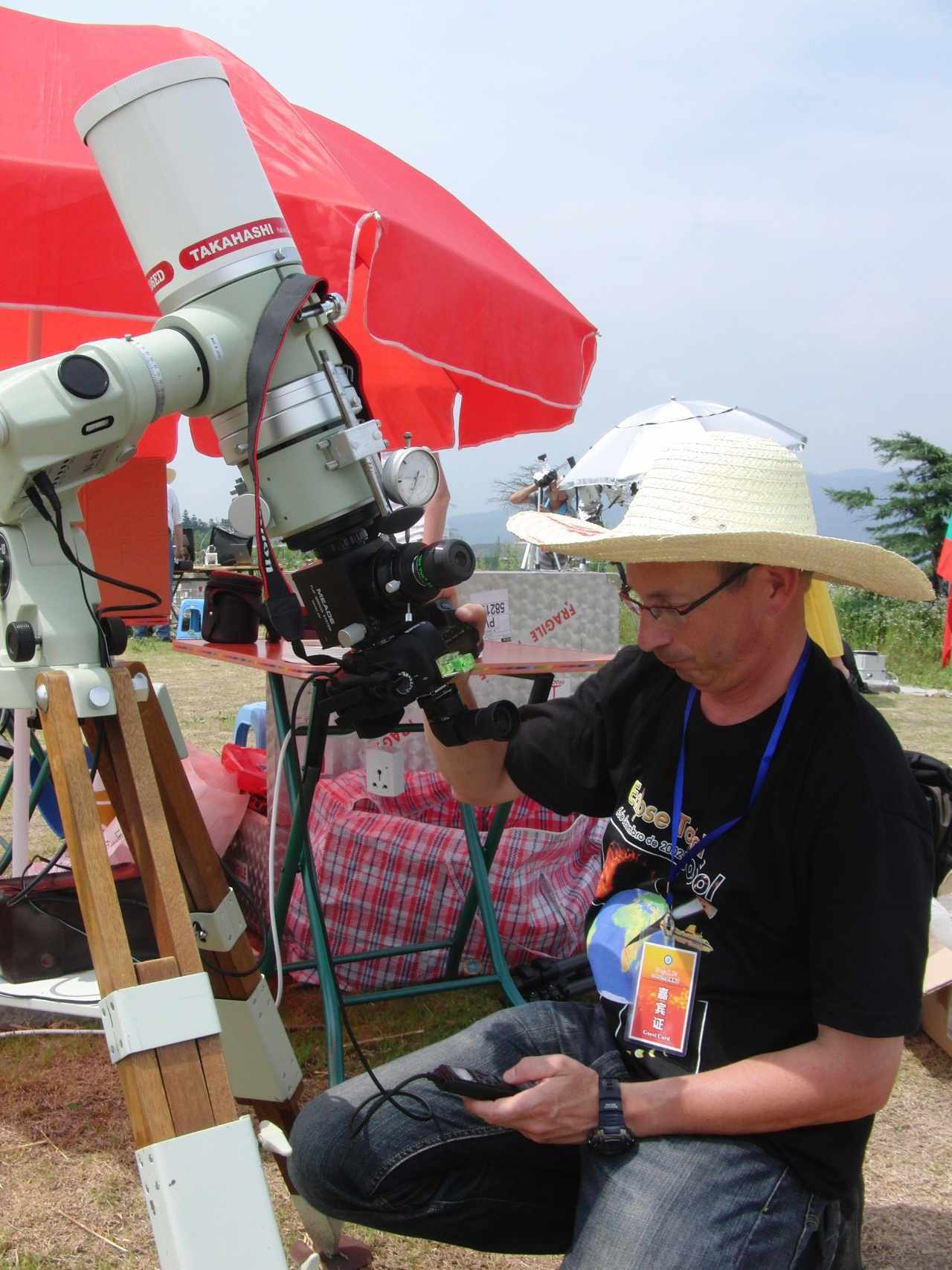 Our most famous french astrophotographer and friend, Thierry Legault, very busy adjusting his Takahashi 150 refractor, Meade flip mirror and Canon 5D MK2 ...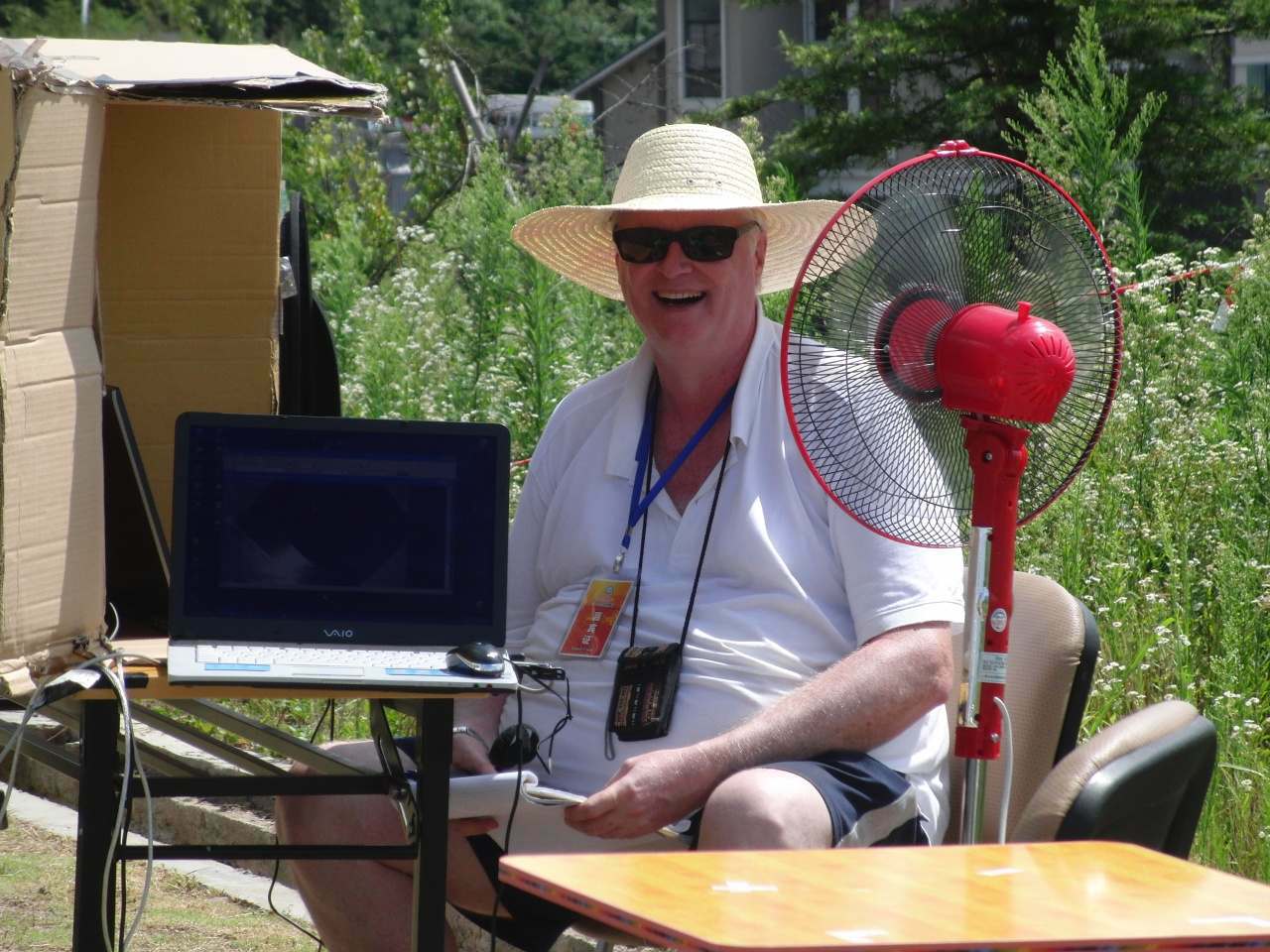 Luc Damé, CNRS, in charge of our French Scientific Expedition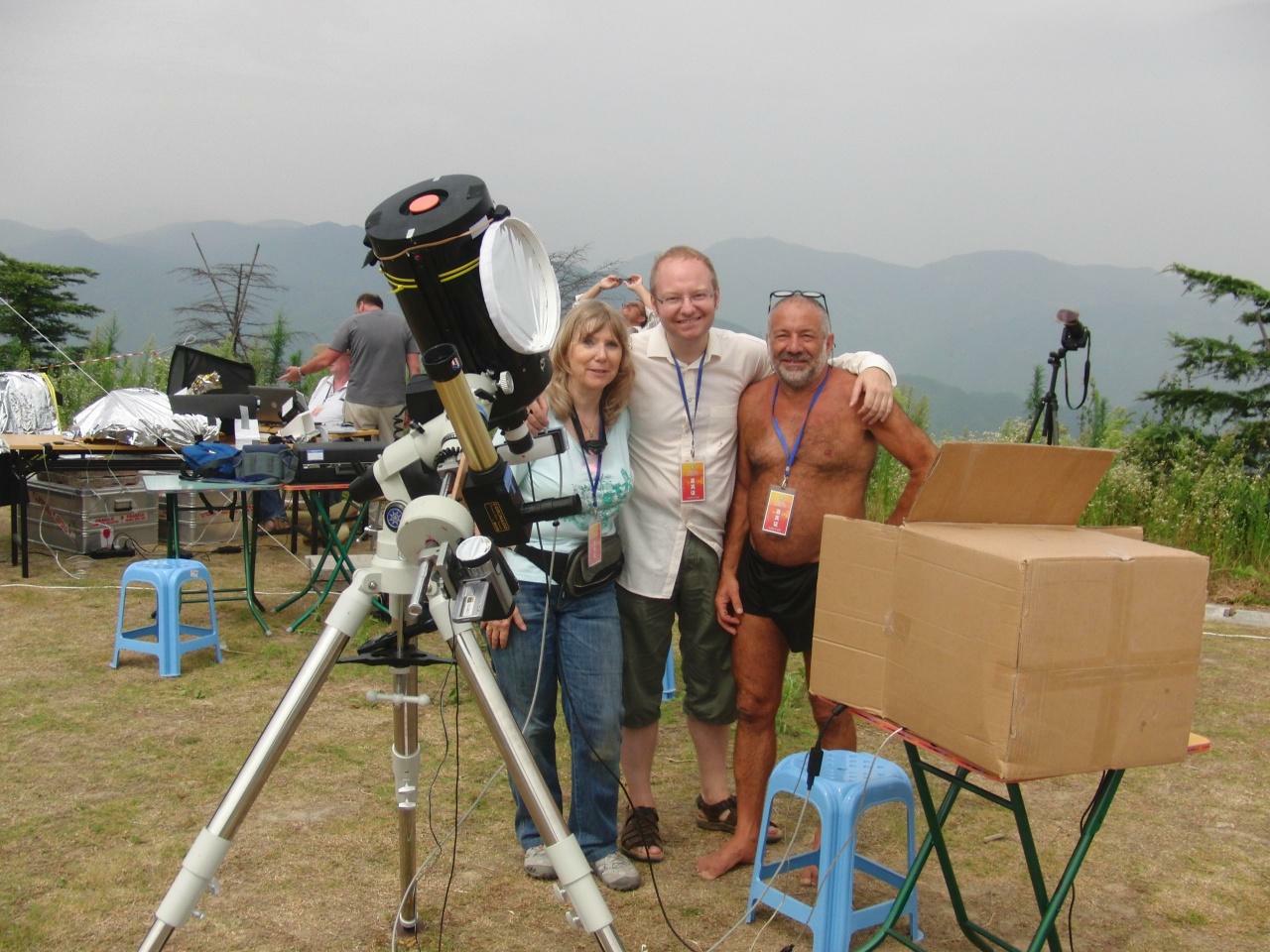 The OPC experiment setup (using Celestron 8 TSC + bino viewer, 2 DMK cameras and a Coronado PST)
and its rather satisfied team just after the eclipse with Marie-France, Thanassis and myself !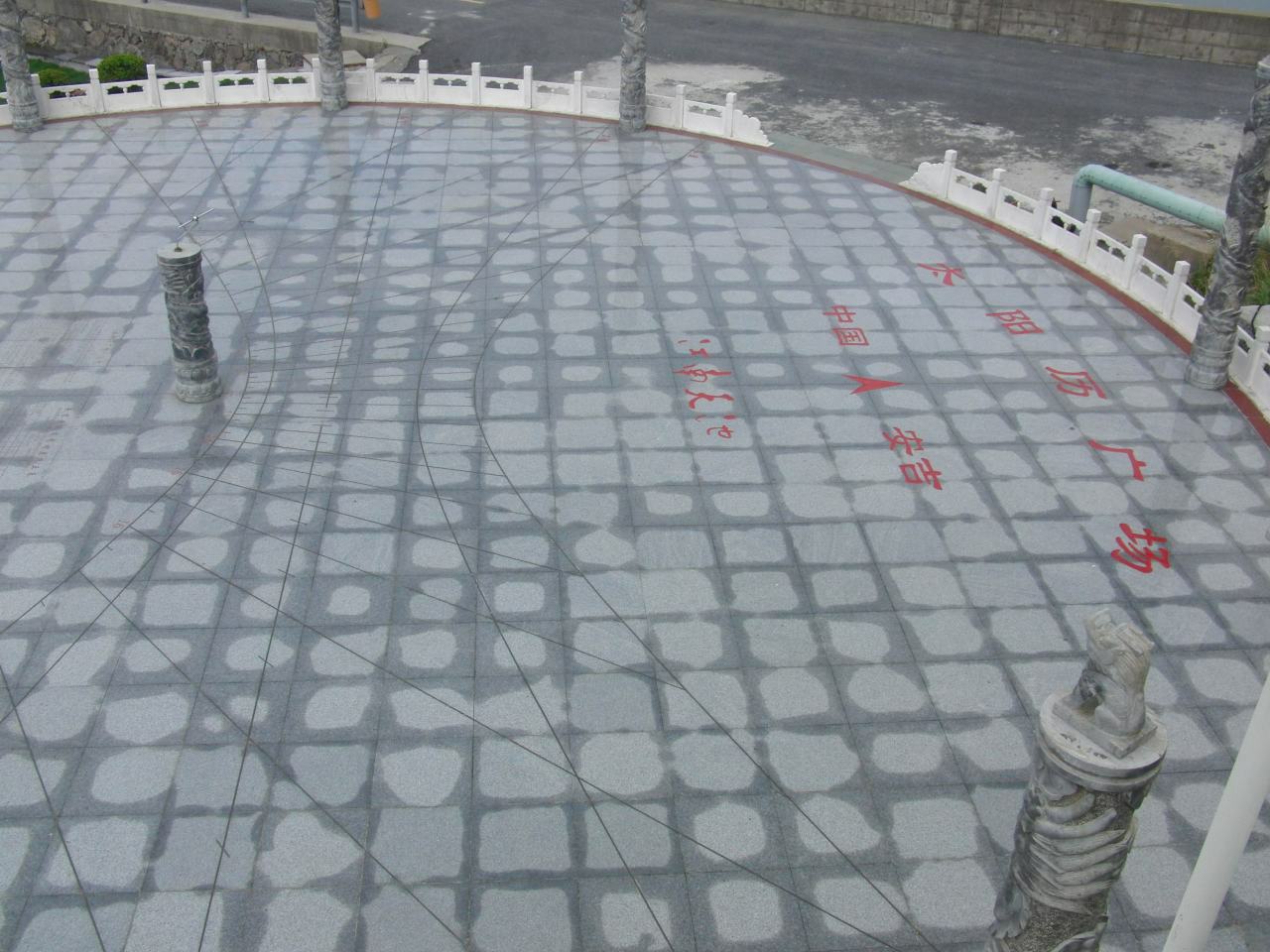 The giant sundial below the observatory...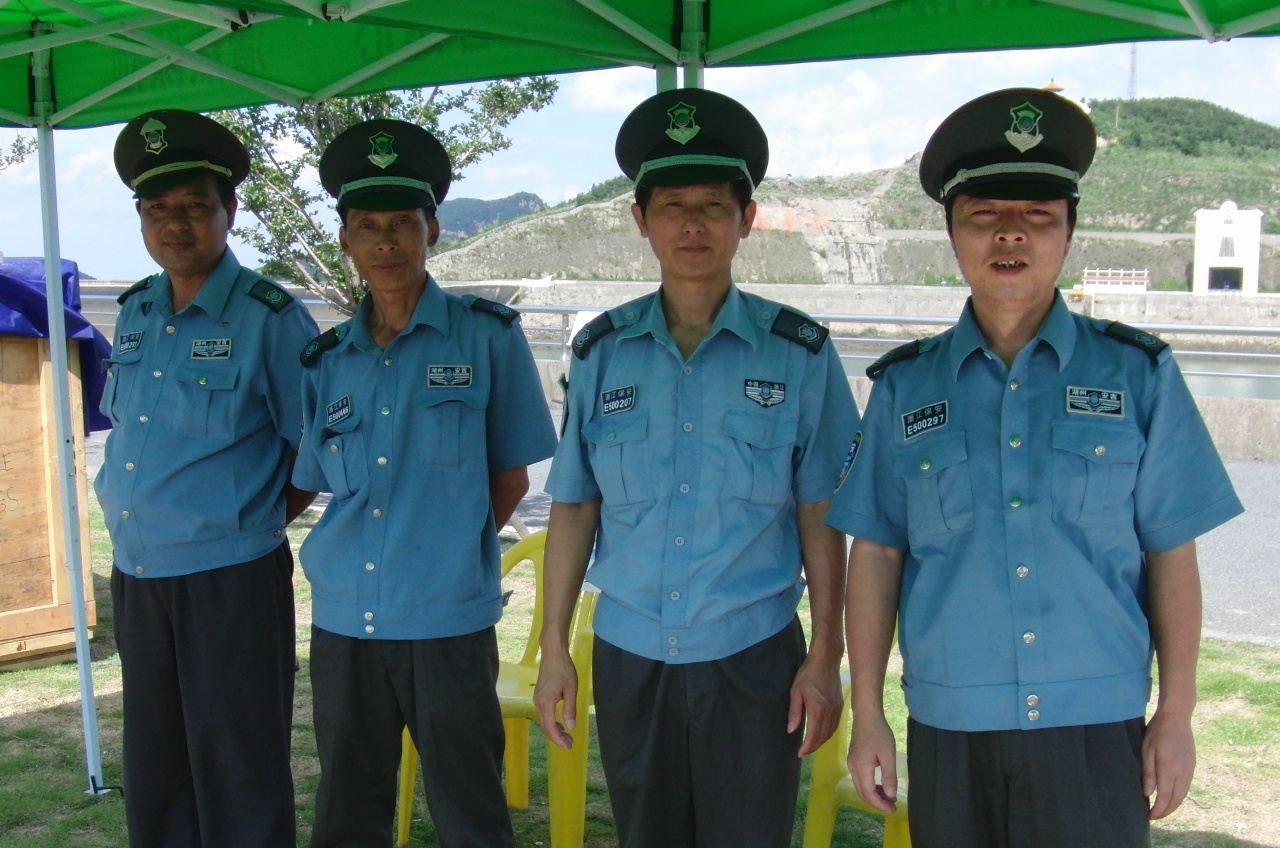 Such a gathering of expensive instruments needed some surveillance !

The main - and nice - hotel in Tianghuangping ski resort ...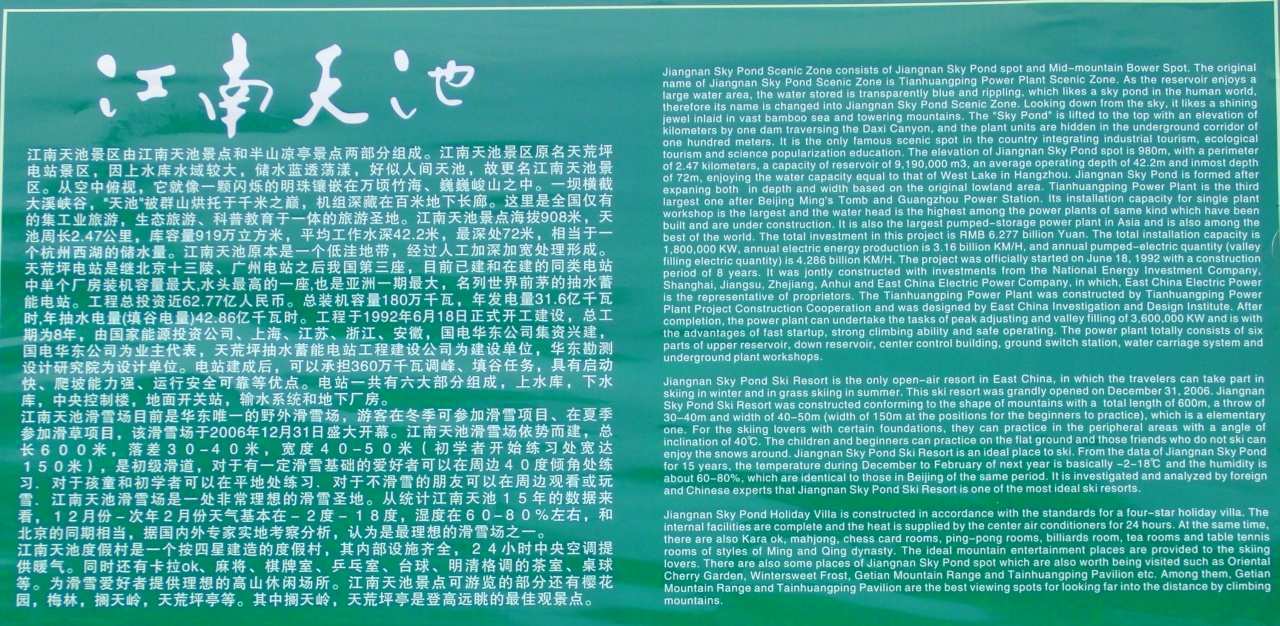 The local Tianhuangping information panel in chinese, english etc ...
October 3, 2005 Partial Solar Eclipse
as seen in St Rémy lès Chevreuse, France
(partial around Paris, annular in Spain, etc.)
Generally click on images then eventually on

icon for larger size...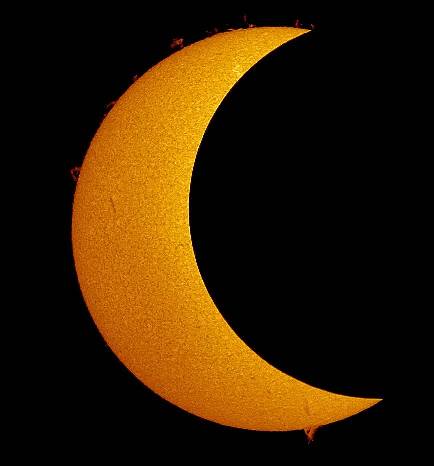 Here at maximum (click on image for full resolution)
20051003/09:02UT
Canon10D, Coronado SM90, Perl-Vixen fluo 100/900, 0.3s at 400ISO
click here for 2Mo file

and here for high-resolution 14Mo files (large size : 800*600)
Frames were taken at about 15s interval until the Moon swallowed the large prominence then automatically at 1/min.
Note : all dark or black frames (clouds ...) have been rejected automatically by Registax3,
the only program which was able to registrate correctly the 200+ images
(giving it the large arched prominence of the left as reference)!
The PST was mainly used for really nice visual observations.
Later I tried a few pictures in afocal mode (35mm eyepiece) with the Casio 2800UX. See the unprocessed result with a click on the above image.
To see the honorable result of the processing of the PST image, click on above image.
And now, at maximum the Moon just moved in an easy direction to make a stereo couple
with 2 successives pictures (1 min interval) : The Moon is seen above the prominences !

Parallele view

cross-eyed view
Golden Section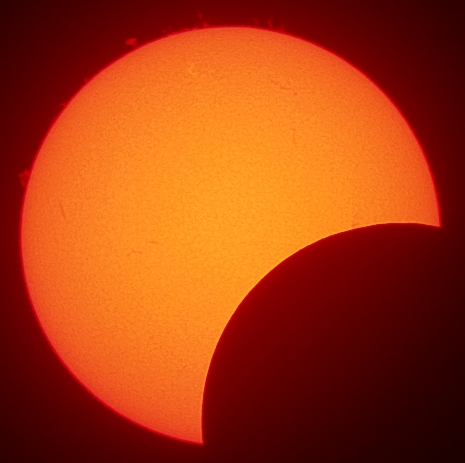 In the above image,
the diametre of the Sun divided by the length of the leftover crescent gives the golden section
(1.61...)
Shadow-Theater

It was fun to play with the Sun and to observe the hundreds of crescent-shaped sun images on the south wall of the house or car !
Eclipse first contact

Chromospheric contact 1 : 20051003-074746UT

White light contact 1 : 20051003-074758UT
Eclipse on Prominences !

click on image for full size

click on image for large animated GIF

or

here

for Divx6
Image of the Sun from a mosaic of 3 images with the Canon 300D and LX200-250 at main focus plane (astrosolar visual filter)

A limb section has been done in PSP with a circle selection and a dark mask. Then with Iris 5.10 freeware, the radius and size of the circle has been determined automatically and a rectangular to polar transformation done to show more clearly the mountains and valleys on the limb of the Moon
lic on image for la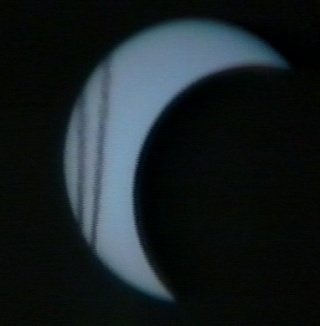 rger on
click to see realtime movie with passing plane ... Only with a standard 8mm camcorder,
5x Hama lens extension, ND4+ND2 +crossed polarizing filters.
Below same configuration...