CORONO
now V0.4 Beta

Step by step ...
Original image loaded.
Zoom with mouse wheel outside the image ...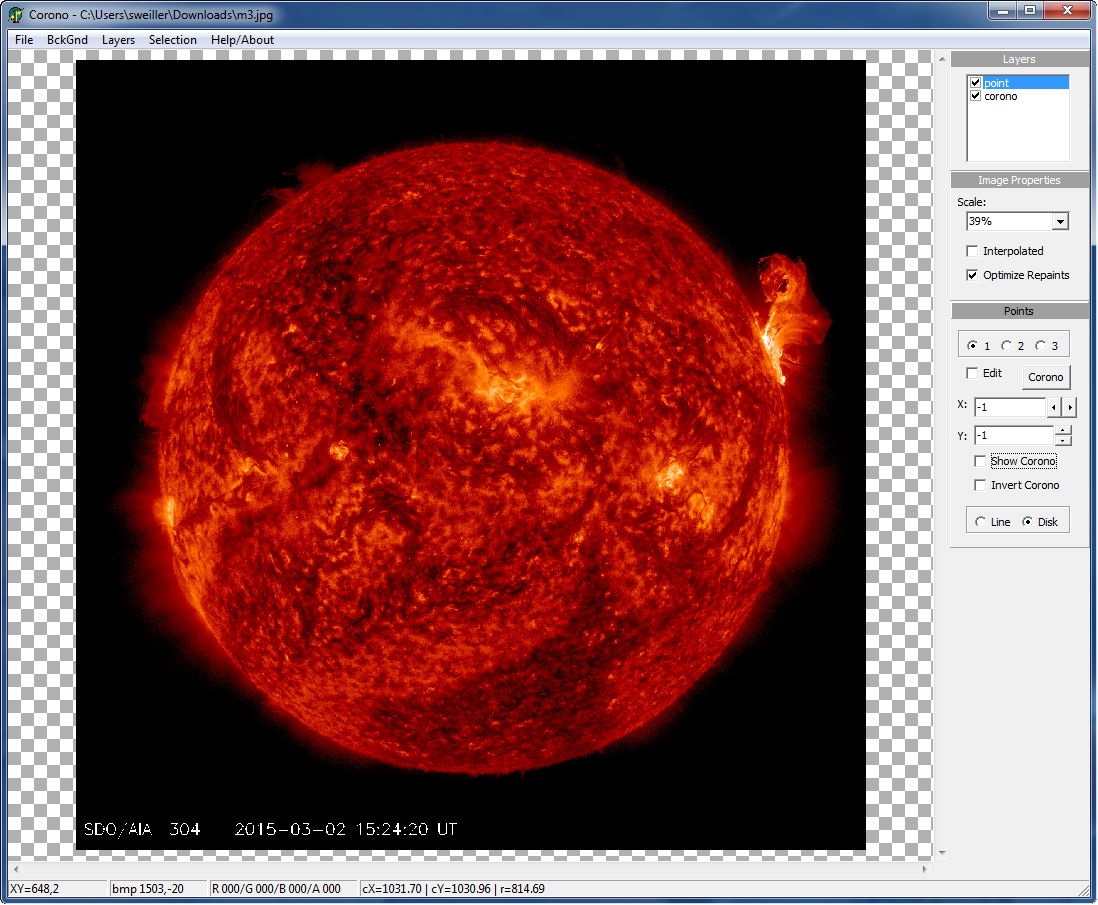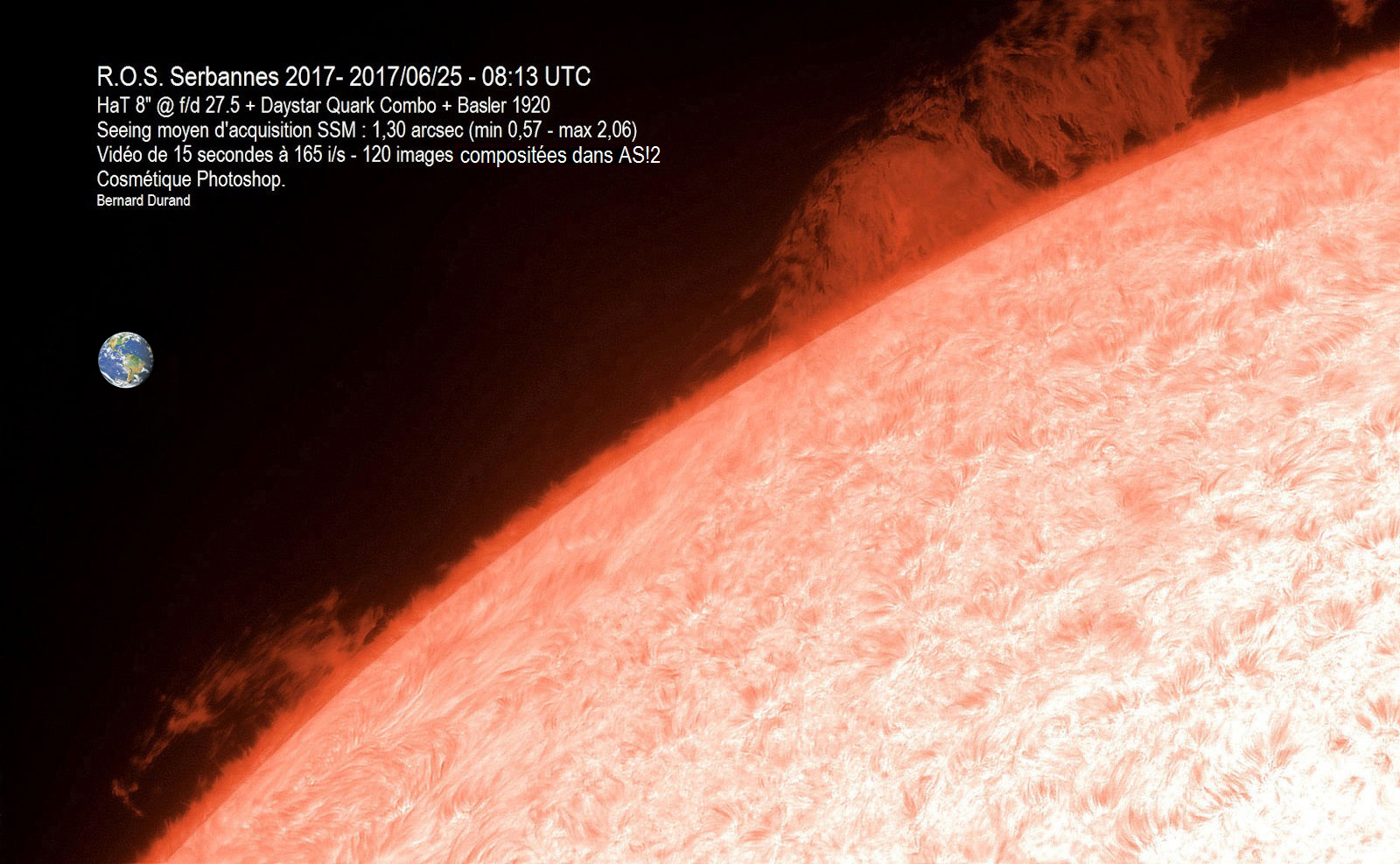 To place the 3 anchors defining the circle :
See that radio button "disk" is selected and "Show Corono" is checked.
Check "Edit" then click 3 times on the limb at about 120°.
After placing the third anchor, the corono effect is there and ready to save !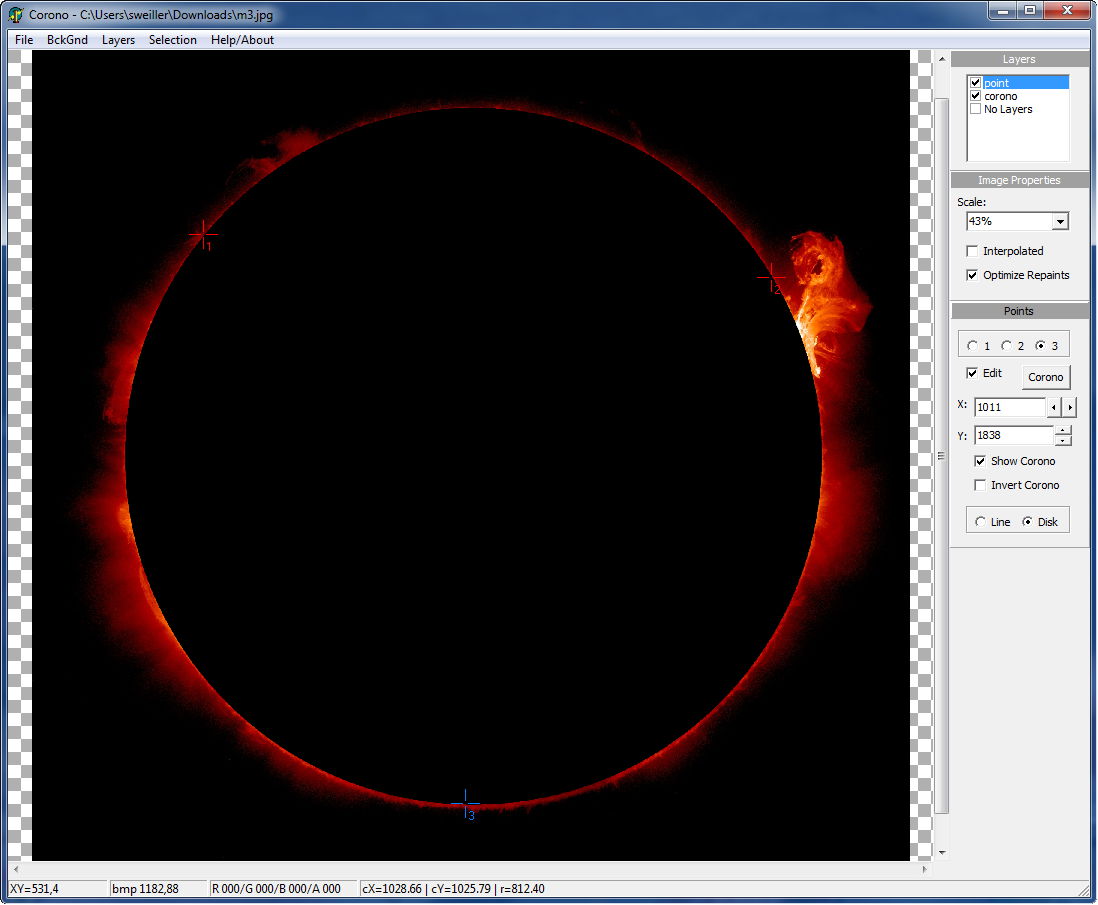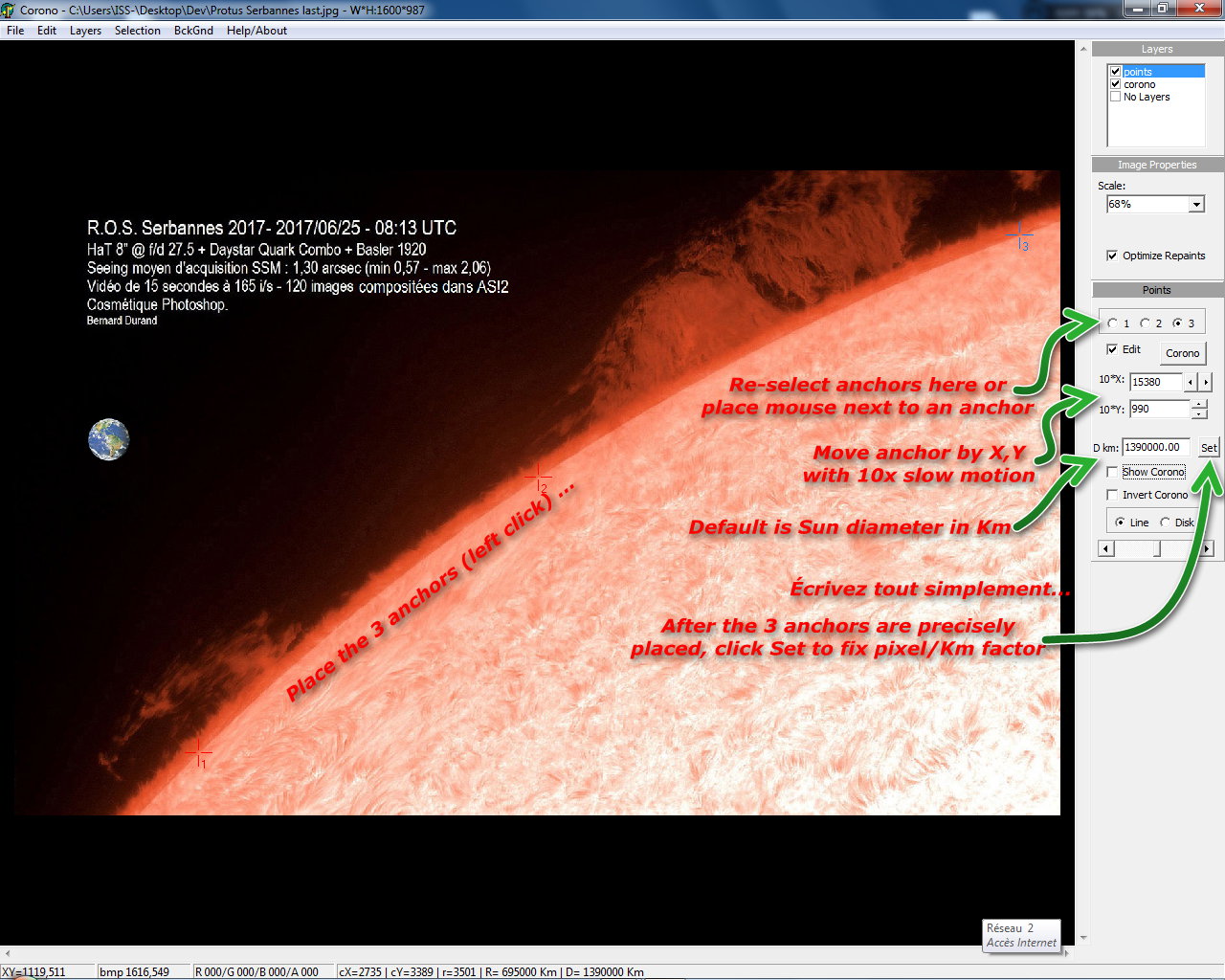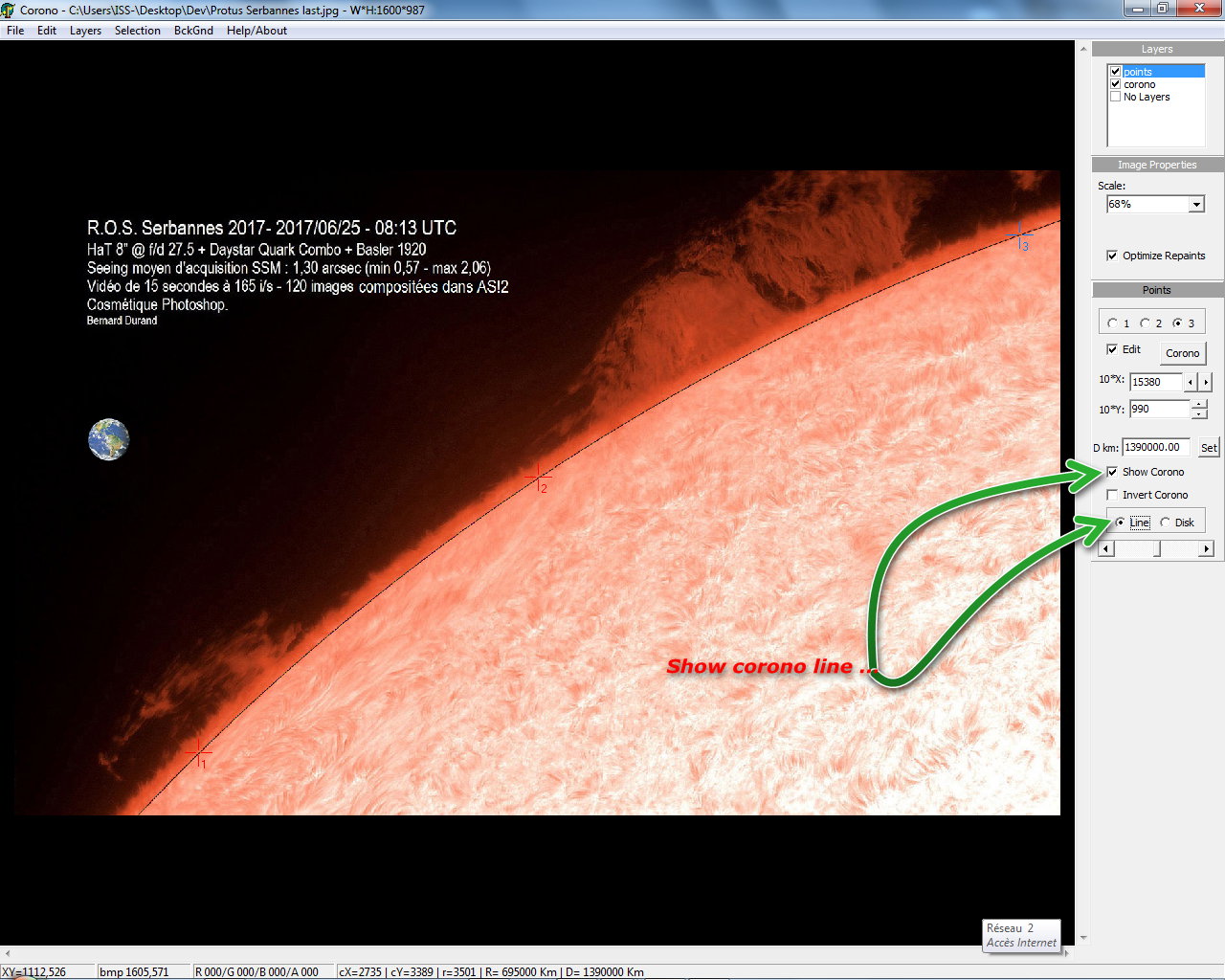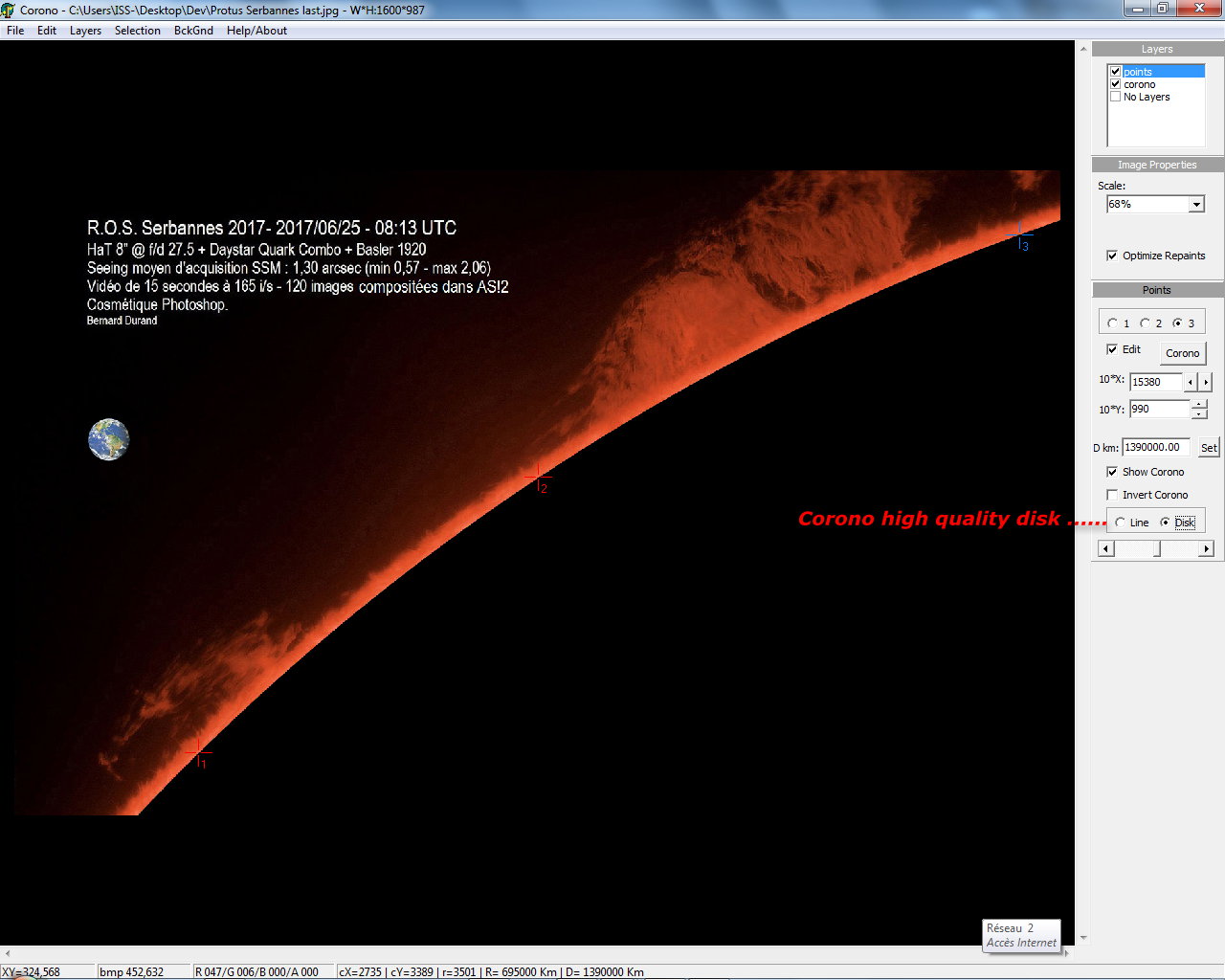 Main options ...
To move an anchor, place the mouse over it and wait a bit (or select the point number) until it turns blue, then click and drag.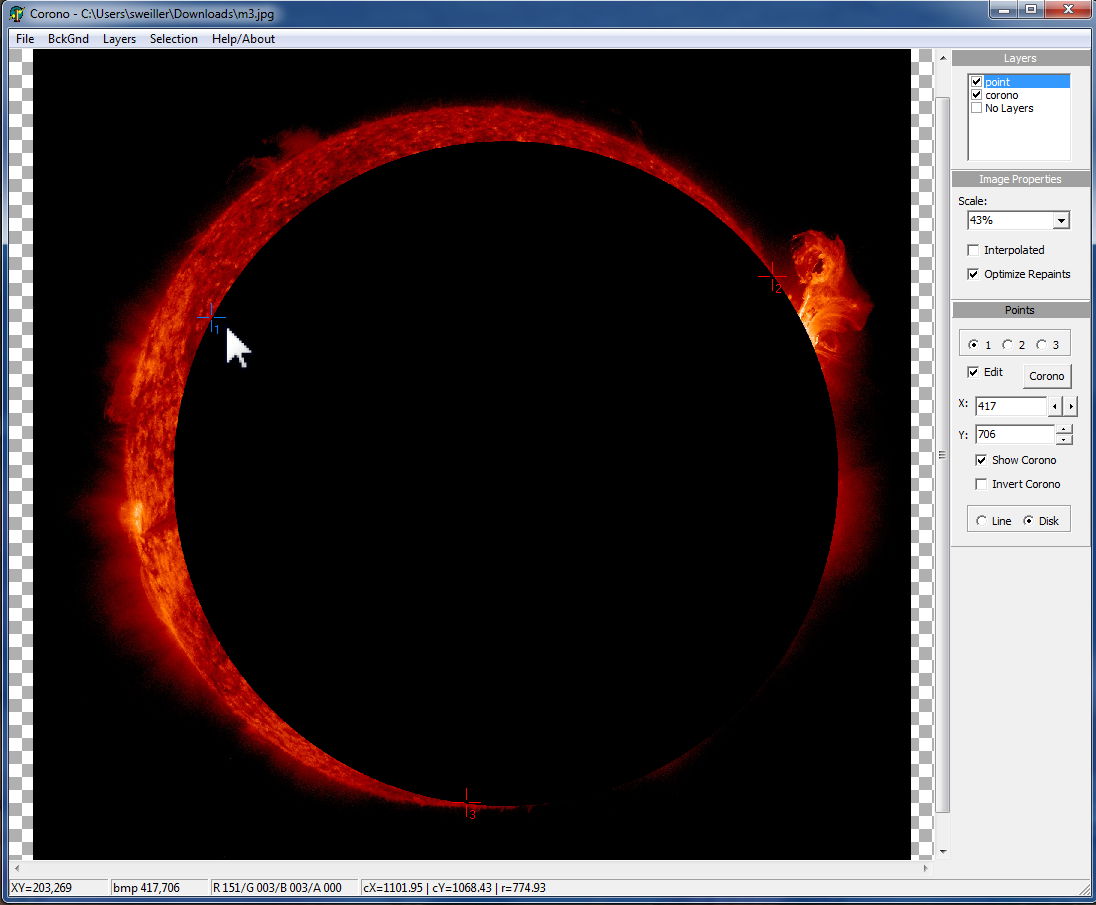 Inversion of selection : click on "Invert Corono"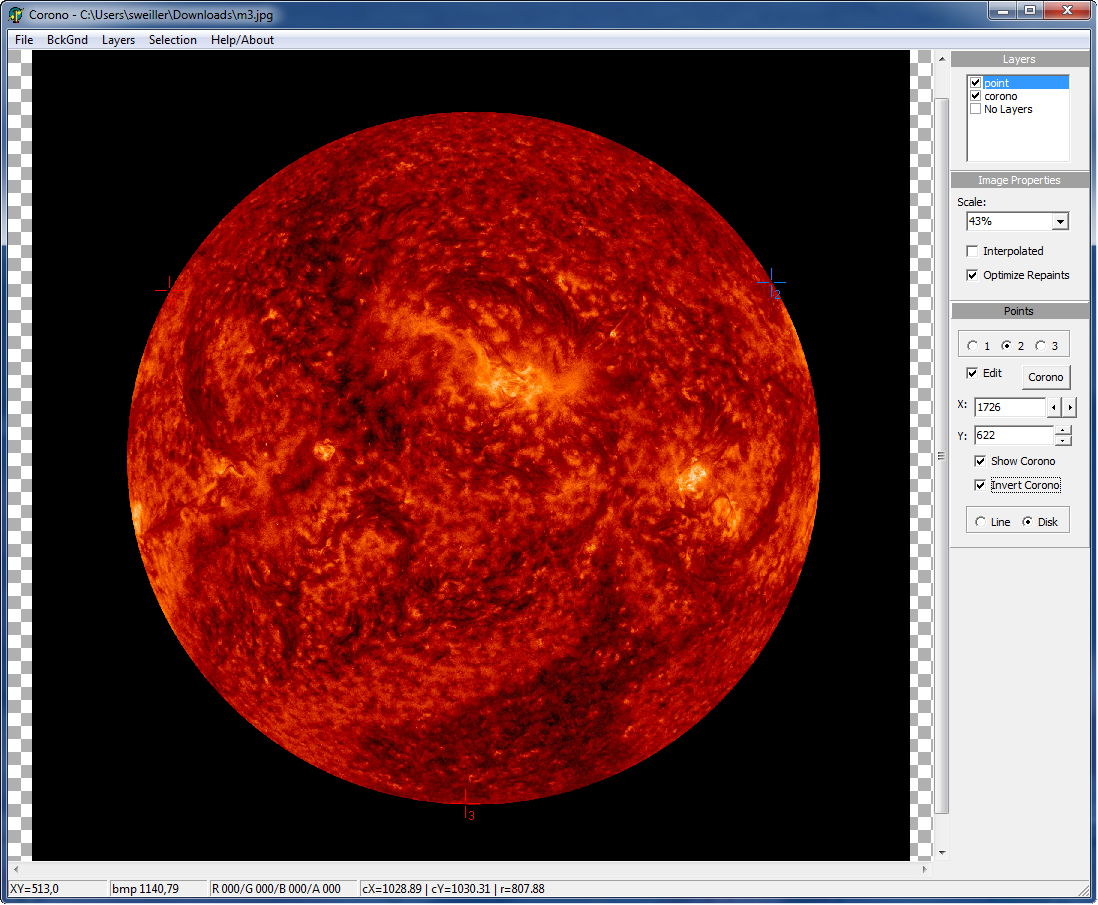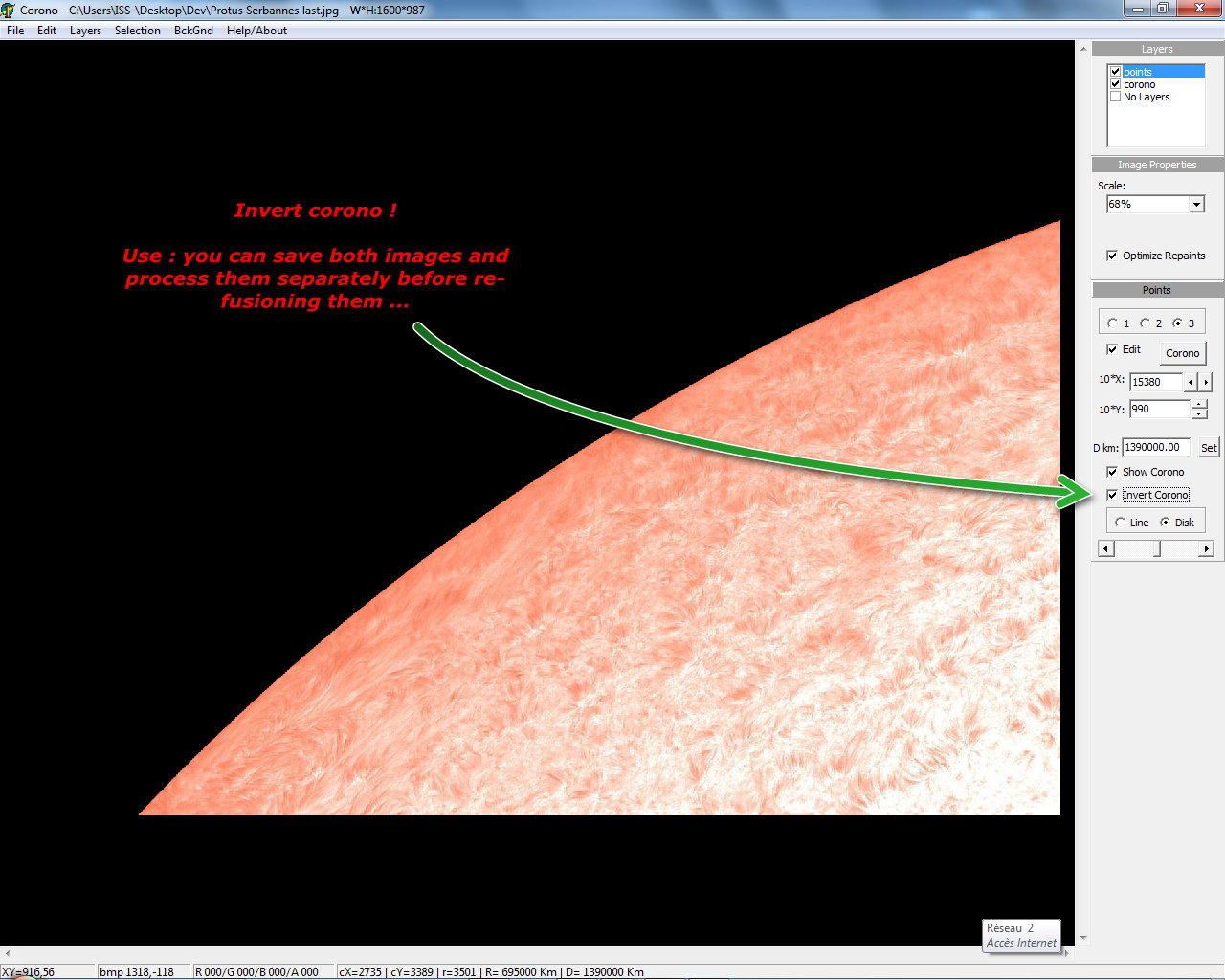 Line or disk
with the Line / Disk radio buttons
with or without corono effect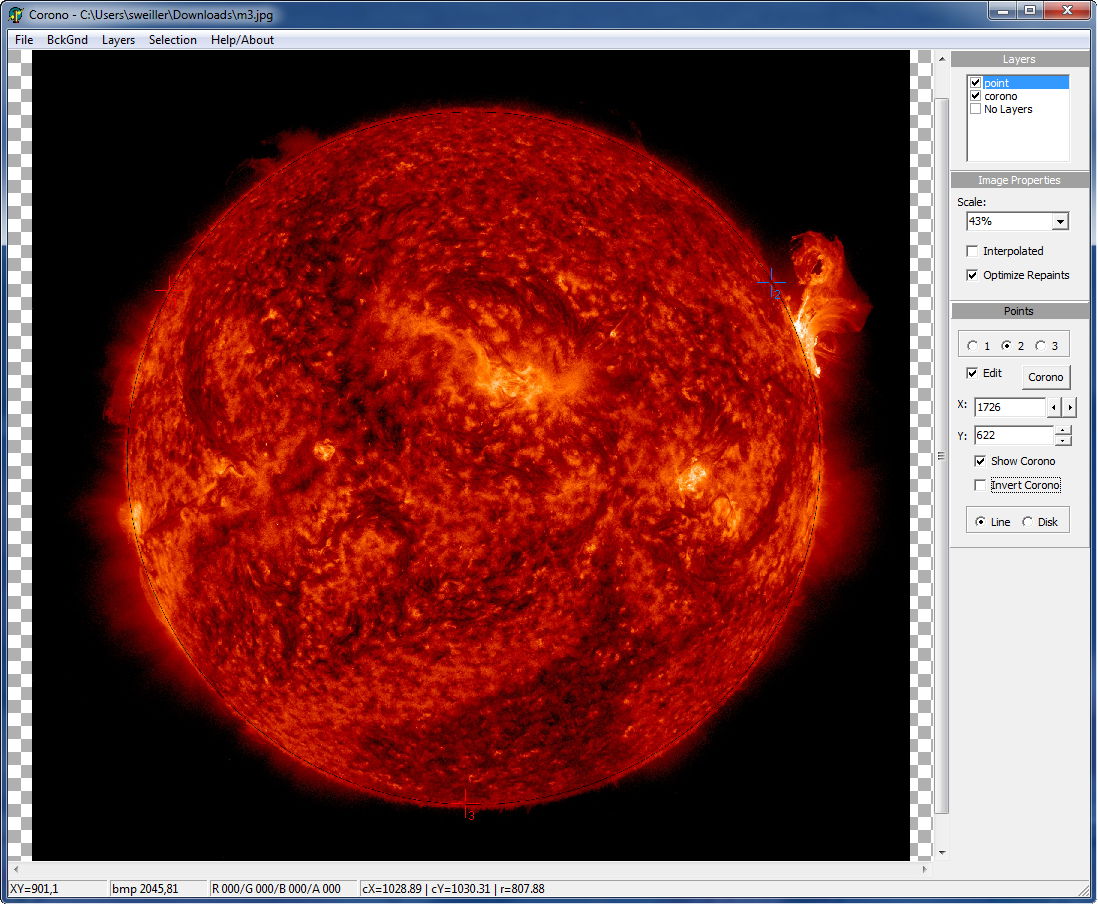 Enlarge corono keeping the same center to mesure the height
of the chromosphere or of prominences ...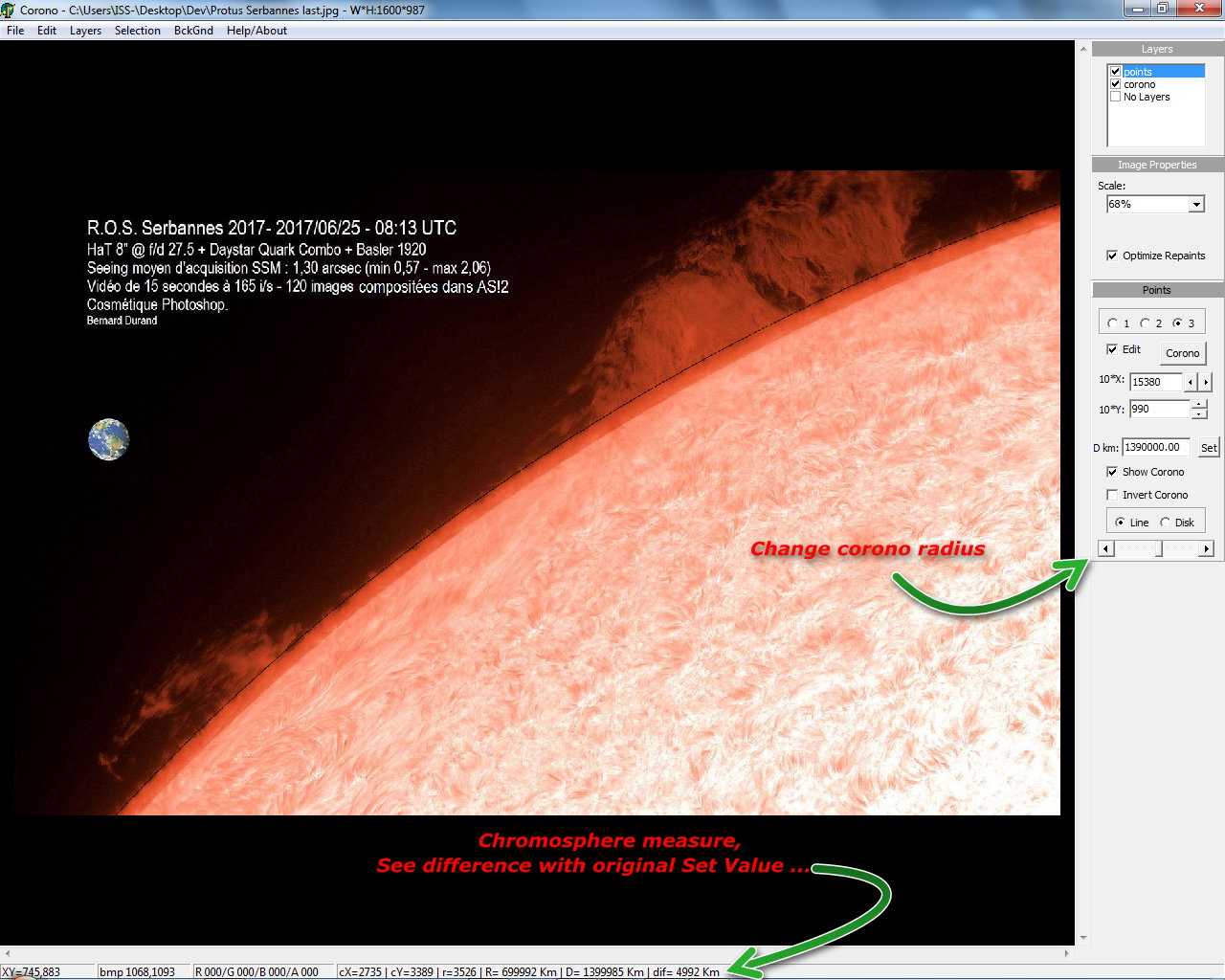 Restore corono Set position, chenge background color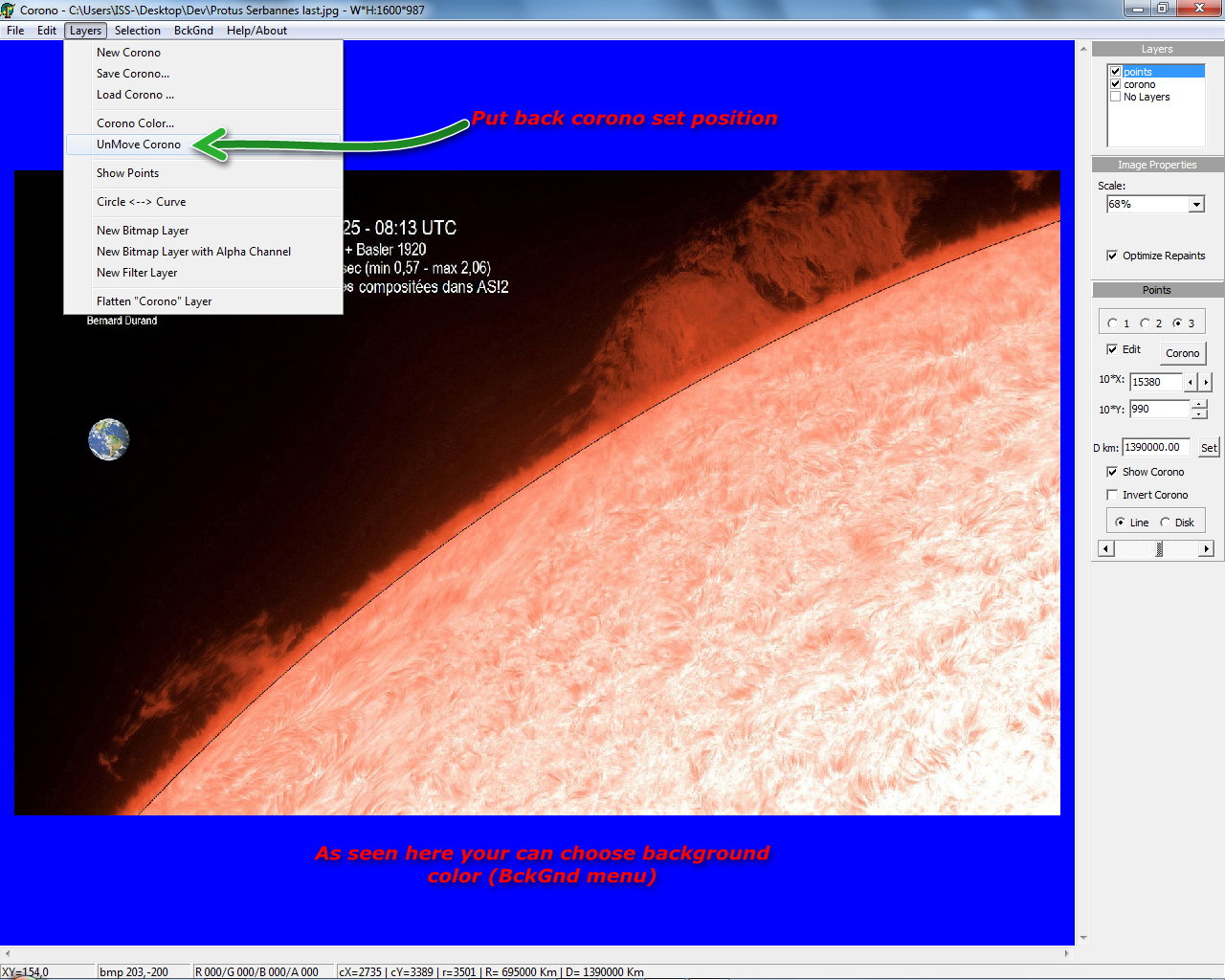 Measure (in pixels) Earth
1) For simple processing softwares :
Calculate scale factor Z to be able to resize the Earth to place it in the Sun image ...
Z = DSKm * RTPix / DTKm / RSPix * 100
With :
DSKm = 1 390 000 (Sun diameter Km)
DTKm = 12 756 (Earth diameter Km)
RSPix = Sun diameter measured (in pixels)
RTPix = Earth diameter measured (in pixels)
Now open Earth picture in your favorite processing software and resize it to Z %
(see result in second image of this page ...)
2) Comment from Pierre Vasey :
" "This can then be simplified further if using an image processor such as
Photoshop which can resize images in pixels. The physical ratio is
fixed, so the required Earth image size in pixels becomes the value
given by DTKm*RSpix/DSKm. So actually RSpix*12756/1390000"
TO DO LIST :
Menus / Better corono colors and transparency / Earth easy integration & positioning in Sun image
Download
FREE for personal use only.
Entities & commercial use, do contact us ...

By using this homemade freeware you fully agree that this is exclusively at your own risks !
Antivirus checking has been performed with Avast before release.
If you agree to above conditions, click here to download Corono ....
Note : no installation required !
Please support Corono development, if it works nicely for you,
by crediting Corono use, in the description of your successful Internet video / picture publications !
Also if you like to help for another language (German, Spanish, Russian, etc ... ), please contact