MICROSCOPY with the QUICKCAM
Quickcam VC
Colored tissu Commun Granite
Effects of unsharp masking Effect of rotating polarized light
Quickcam Pro (incandescent light)
| | |
| --- | --- |
| | |
| Taken with IR cut filter | Taken without IR cut filter |
MOUNTING the QC on the MICROSCOPE TUBE
All the pieces needed :
Nicoll PVC 2 part adapter + rubber ring MAF2J 30-32 (left)
simple 32 adapter with ring (right)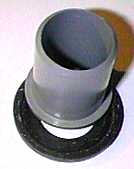 Put simple adapter into the non flat side of the rubber ring as shown

Put into large ring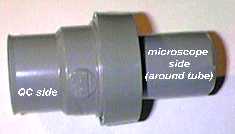 Screw last part into large ring.
Right side goes around microscope tube.
QC adapted for astronomy with 1 1/4 tubing goes into the left side
That's all !
PS : My "Plumbing" english is really very poor. I would appreciate if somebody could tell me via my email a correct english explanation for this adapter mounting !!
Thank's
Texts and images of this web site all Copyright S. Weiller, 1998-2010