Testing liveview + EOS-movrec possibilities in the field of Hi Speed movies !
We have only 22 fps but it is not that bad considered that we have 1/8000s exposures ...
Canon EOS 40D (defiltered for astronomy purposes), B&W mode, 1/8000s exposure, Zoom 75-300 at ~100, FD5.6, H ISO (3200), USB2 cable to Asus EEE-PC 1000H, 19fps / MovRec 0.1.8_beta2*. Cropped from 1024*680 pixels original AVI.
See the movie in XVID** format (.6Mo, right click and 'Save as' to put on your hard disk)
* Be sure to have the message "No CF card" when turning on the camera otherwise you may experiment connexion failure with the software.
** Xvid or Divx installation required !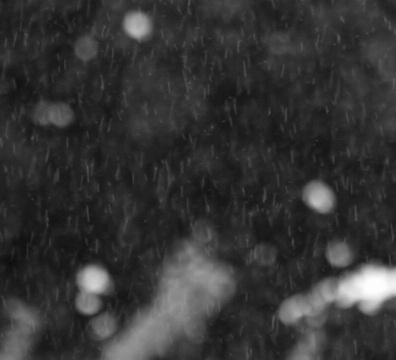 Heavy rain and wind
Zoom at 300, FD5.6 otherwise as above. Distance 30m.
click on image for small Xvid movie **
Freezing the falling drops would require 1/30 000 s exposures !
But you can see that they don't fall in straight lines !