Planes tracking in kind of Altaz (with Emmanuel Rietsch System) !
NEW : USING ASI174MM Camera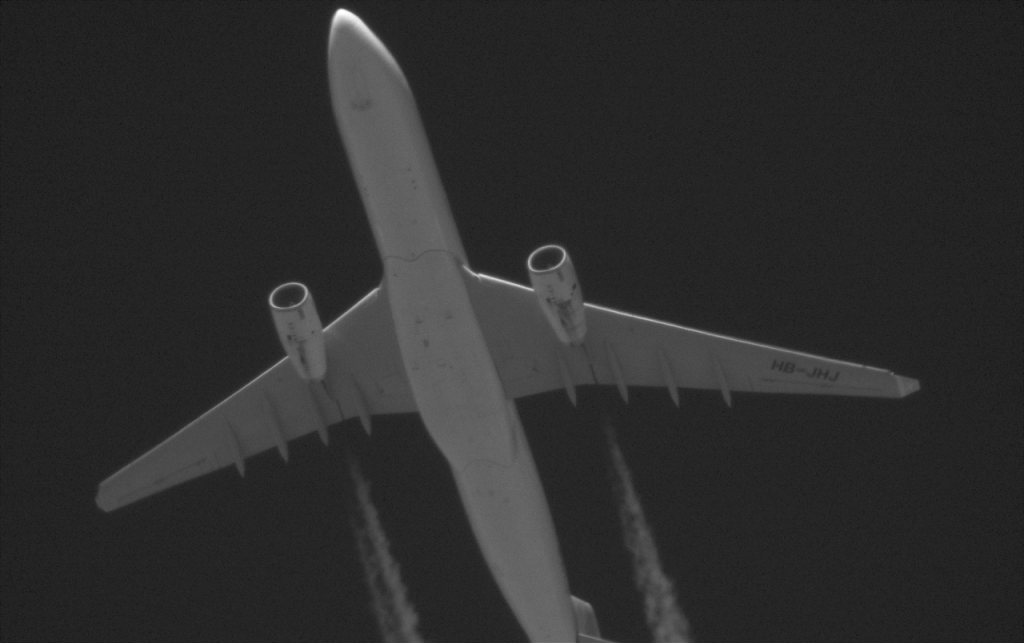 I works nicely and I guess lots of ISS-Tracking will be done with this pseudo-altaz setup !
Main camera is EOS-1100D at main focus of the Orange C8 (F=2m) ISO 800, 1/4000s.
Tracking camera, DBK 1/4" is equipped with a R25 deep red filter to kill sky glow.
I use a Orion Z-finder half covered (the red dot is just at the rim of the created black zone otherwise it is almost impossible to see it) as pointer ...
Pictures below are extracted from AVIs done with EOSMovrecV3 :
| | | |
| --- | --- | --- |
| | | |
| Condor | EasyJet | ?? |
| | | |
| ?? | ?? | CityJet |
and here are a lot of XVID movies (not registered = original tracking, just cropped except the 'NOCROP' one ... Enjoy !
* This movie shows the real size of the sensor, the quality of tracking, its capability to track even far away when contrast is getting poor.
A few test at night to see if the system will correctly follow plane lights : short video is here ... PlanelightsTrk

Note : Please wait until your PC has read entirely a first time all the frames of movie in its cache ... the second pass will be nicer ! Also if you know what name to put instead of the ?? please write to me!
Sample movies @ 6m focal length (C8 +3X Televue barlow), Camera is EOS1100D & EOSmovrec:
Other recent movies, just click on the pictures to download the related xvid movies ... the bottom right one is aligned with DVS stabilisation software.
| | | |
| --- | --- | --- |
| | | |
| | | |
| | | |
| | | |
| | | |
| | | As a demo : REGISTERED / ALIGNED with DVS software !!! |