Full Spectrum Canon EOS 1100D IR & UV photography
Introduction
Please, click on small pictures for larger ones ...
I sent one of my Canon EOS 1100D to Richard Galli well known for de-filtering* ... The result is - as expected - perfect !
A clear Schott WG-280 has been placed as replacement to be able to keep autofocus as much as possible ...
This filter passes UV light until about 280nm and IR light until the end of sensitivity of the CMOS around 1100 nm.
As soon as received it back, I have made some tests with was was left as subjects as we are in winter ...
IR (NIR) Photography
NIR (near infrared) photography is very easy with this modified camera ... just fit a IR pass filter,
shoot some green grass or foliage, use the result as an IR customed WB frameand go shooting !
Everything as it will be, is very clear in live on the screen of the camera ...

Test image at 950 nm, a wavelenght at which the color CMOS gives pure B&W results ...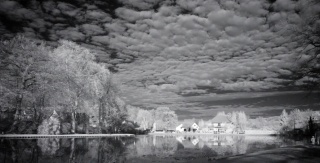 20150616 NIR (830 nm) in the nature gallery, EOS 1100D Hand-held, in BW mode...
Click on pictures for large size (~5MB)
Note : Nothing to see in the viewfinder of the camera ... it's IR !
But very easy to frame in liveview, good contrast and AF focus perfectly working !

Typical EXIF infos (TopL pic):

Filename - _MG_2919.CR2
ImageWidth - 4272
ImageLength - 2848
BitsPerSample - 8 8 8
Model - Canon EOS 1100D
DateTime - 2015:06:16 19:06:42
Copyright -Sweiller 2015
ExposureTime - 1/200 seconds
FNumber - 5.60
ExposureProgram - Aperture priority
ISOSpeedRatings - 800
FocalLength - 18 mm*
ExposureMode - Auto
White Balance - Manual
Quality - RAW
Flash mode - Not fired
Sequence mode - Single or Timer
Focus mode - One-Shot
Exposure mode - Av-priority
Focal length - 18 - 50 mm (1 mm)


* I also used 20 mm, 35 mm, 50 mm ...

3D photo !
UV Photography
UV photography is a demanding activity as good UV compatible lenses (below 350 nm) are known to be rare ...
Anyhow I was glad to see that my Canon EFS-18/55 could already show the bull's eye effect on the jasmin flowers in my garden
when equipped with a 1.25" UV Schüler Astro - imaging "Venus" filter peaking at 360nm ** fixed with black electrical tape***.
I added an IRCut (not IR/UV cut !!) filter and it seems to be just a bit better with it ...

** price was about 70€ when I bought one ...
*** See transmission curve here //
A good friend has done for me a 1 1/4" to 37 mm step-down ring then no more tape needed !
I can now put in front of all cameras all the 1.25" astronomy filters adding commercial rings !
At generally used high focal length (Sun, Moon, distant macros) there is absolutely no vignetting !
For the time being, result with this camera (Fuji HS10 @ 720 mm focal length, a few RAF pictures manually aligned on big sunspot and optimized with RegiStax5) in K-Line done under some light clouds ...
will be improved asap adding 1.5x telephoto extender and most important : clear skies
If nothing mentionned, done in full sunlight ... and in those conditions the images can be seen -as an insect would see called " bull's eye pattern " - live on the camera screen !
Please, click on thumbnails for larger pictures
New pictures and processing ...
UV being invisible for us, we can change / choose its color as in those yellow dandelions taken with Canon EFS 18-55 mm (above picture) and Oplarex 1:1.9 F5 mm fixed with rings and black tape on T-mount adaptor (below picture) ...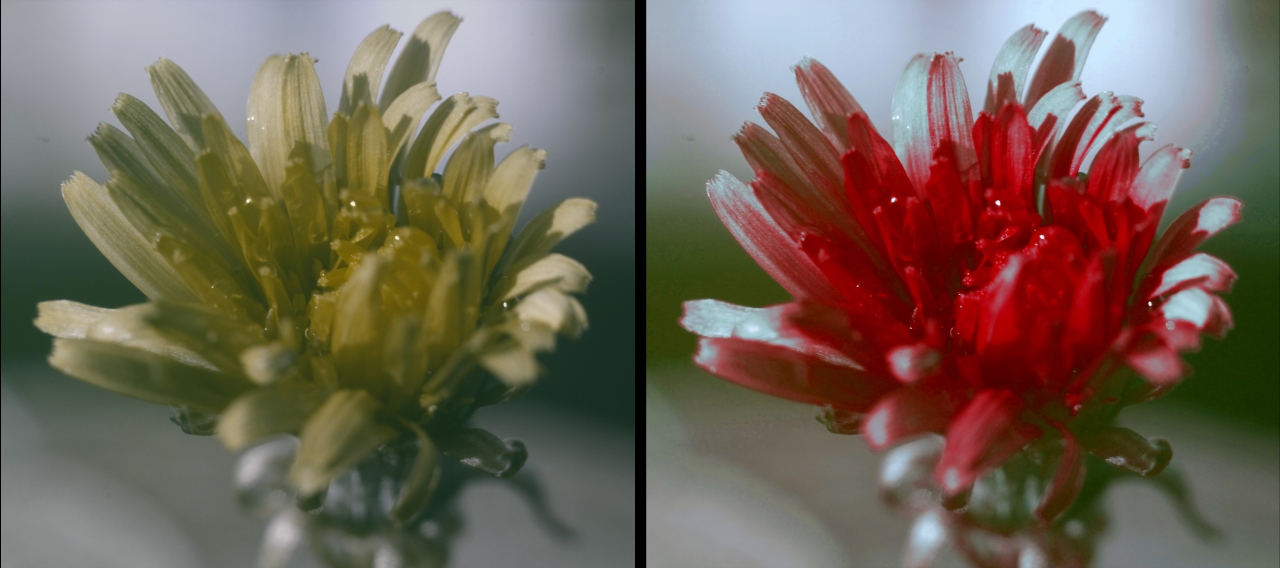 or this jasmin (Oplarex) pictures ...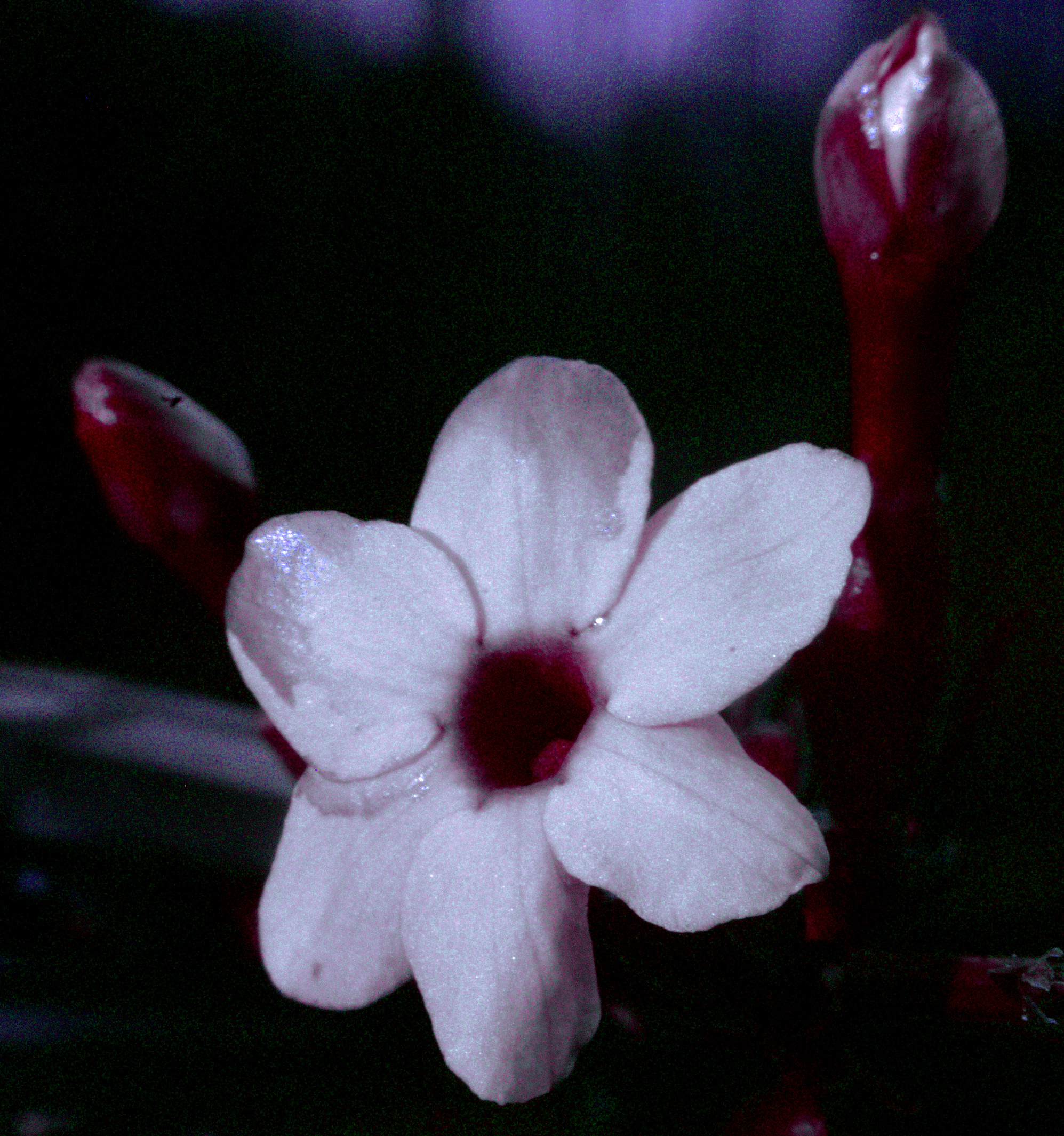 First UV trials ...
UV picture : F 55mm, 1/2s, FD 5.6, ISO 400 on tripod
same but in 3D (in "cha-cha" mode) !
click on pictures for full HD (1920x1080) ...
Right image is saturation enhenced (many +20 % steps)
Test of colorization (anaglyph style) of the bull's eye pattern ...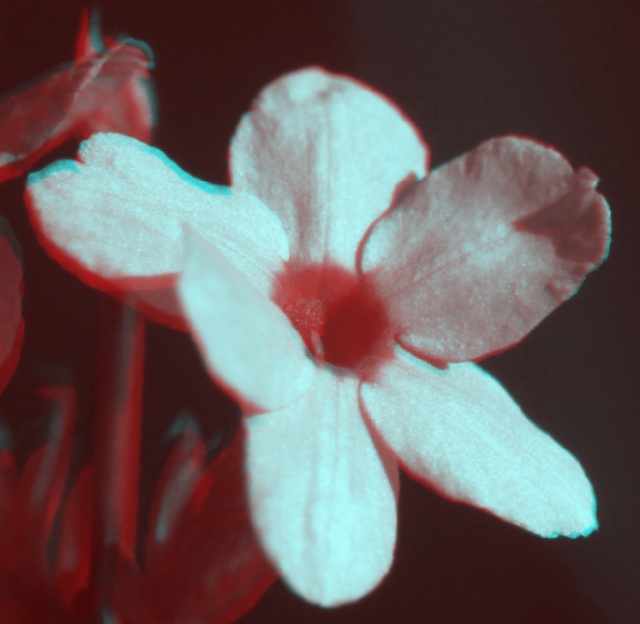 Image obtained with Oplarex 1:1.9 F5mm lens taped on T-mount and UV-Schüler only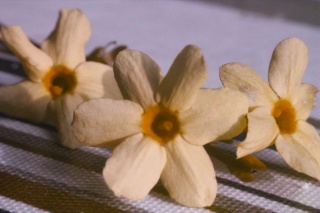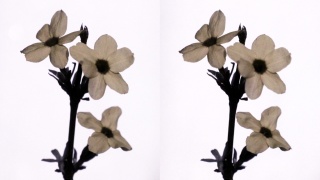 <-- as is from camera .... ....saturation enhanced -->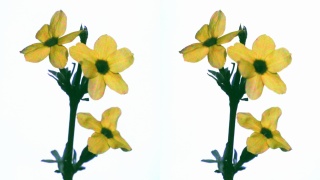 Here is a self-portrait ... the skin has an interesting weathered look !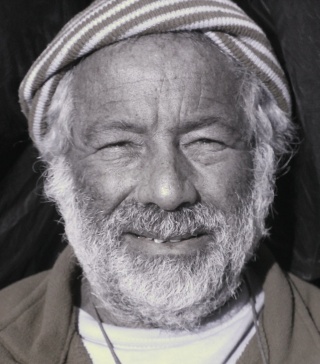 linked here is a frame to be used as custom WB when using the Schüler Venus filter + IRcut