Preparing my W3 for underwater stills and movies !
I designed this configuration and was able to take pictures and movies with the W3 underwater snorkling in the Red Sea in may 2014 ...
Results :
A sample 3D movie in HD (download 98MB)
Sample pictures (click on pictures for full size download) :
A lot of Sun is a must otherwise picture are blurred because of your own moves and also the fishes move !
Generally nice for snorkling in shallow waters (pic 2 & 3) ... Picture 1 is already too deep (3m)
Only very very clear waters allow use of the W3 flash !
Minimum distance to respect from camera to objects : no zoom 2.5m, max zoom 1.3m.

The waterproof Case (no more available) :
was from http://www.camerashield.us/
http://www.drt3d.com/LumixUnderwater.htm
You have to turn on the camera, choose stills or movies , set white balance for underwater, Auto shut down OFF, close the case and go shooting while batery last (about 15-20 min for movie).
Note you must take at least 1 picture every 5 min or the camera will shutdown anyway !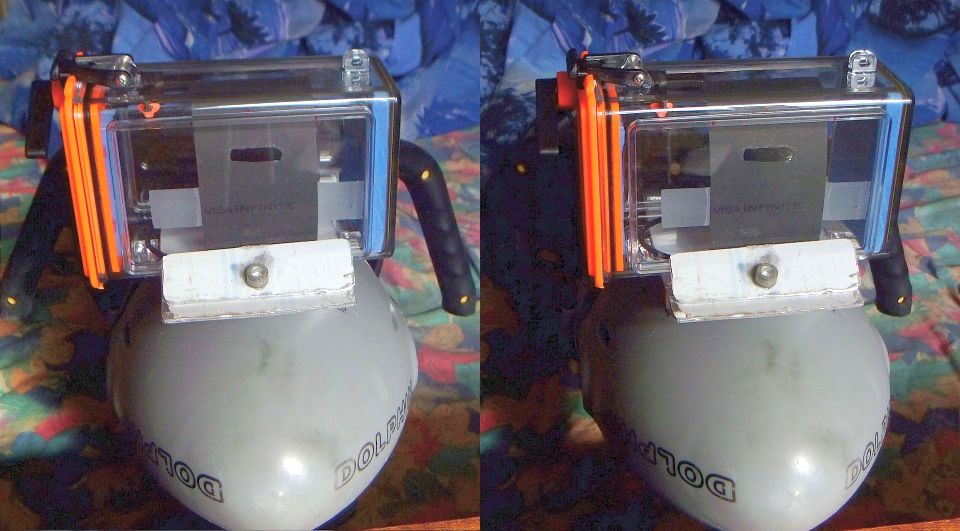 Shortened closet aluminum handle
Look on Ebay for "Drawer Closet Pull Handle" but note that aluminium is better than steel for DIY ...
In Europe look for french OSKAB / HAKEO handle #10 shop
There will be a couple of holes more in the handle to fix the main plate (with triangular head screws) ...
Inside fixation :

Aluminium plates (3)
There will be a couple of holes more in the main plate to fix it on the handle. Triangular head screws will be used so that everything is leveled between the aluminium plate and the flat plastic bottom of the case.

Tightening ...
Fixation detail

Final aspect :