DSOs... restarting on good basis !
3 min accurate polar alignment for astrophotography !
3 min perfect focusing technic !
Stunning difference between Sony A7s original vs Astrodon Halpha
(C8 Edge at main focus, same exposure 30s, same ISO 12800, clic for full size)
ASI224MC, M42 100x3s exposures without autoguiding
Fluo102/900 & Meade 3.3 reducer
Mosaic of 4 fields with 30% margin + 100x1s for heart of M42 (mixed in PSP)
Finishing SGP4, Irfanview
Click on image to see 100% size
ASI174MM, M42 19x30s exposures without autoguiding
Fluo102/900F
Click on image to see 100% size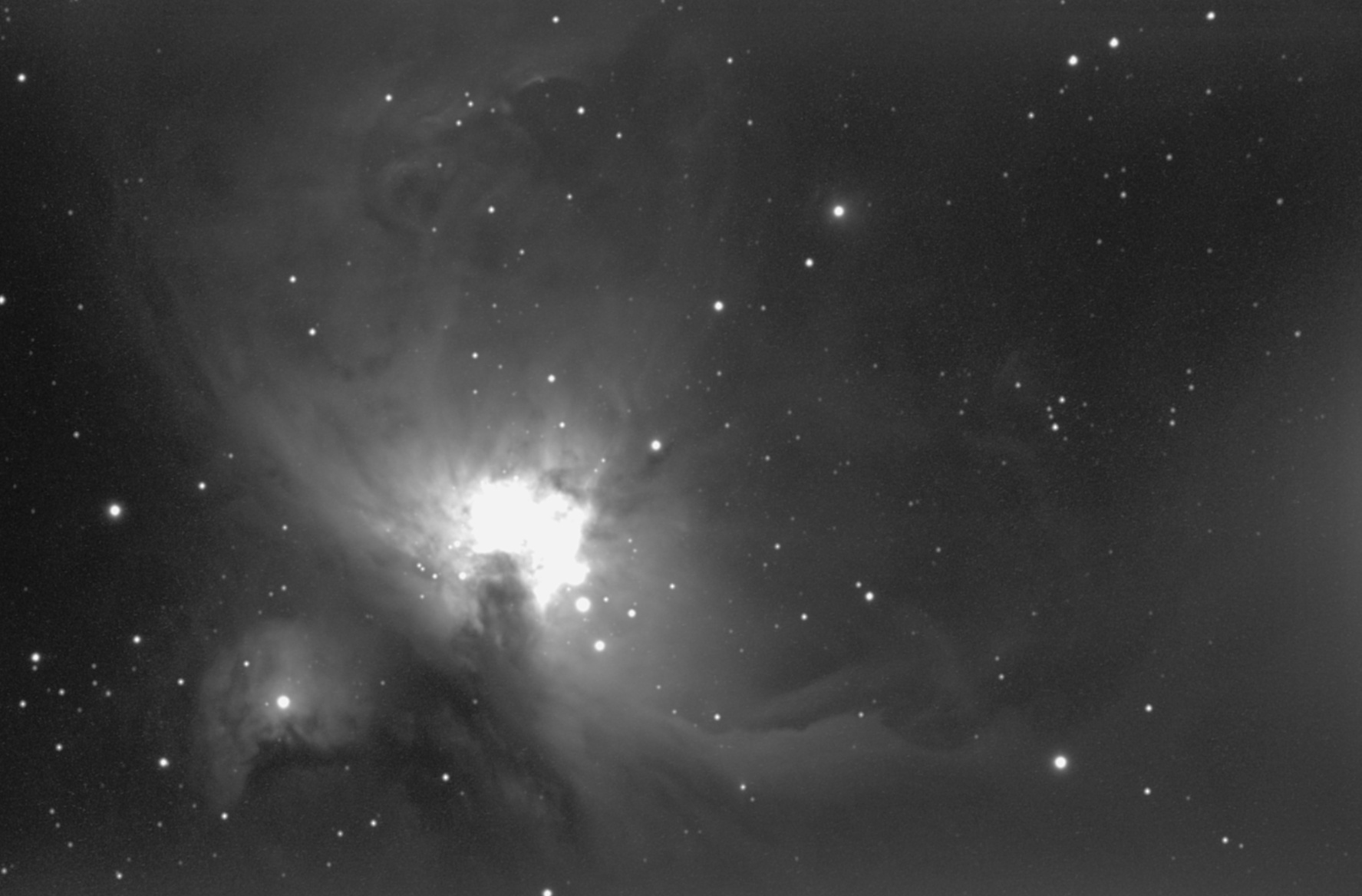 STL11000M around M47 50x30s exposures (+darks, flats, bias)
Right click on image to download 100% size PNG (cropped from original)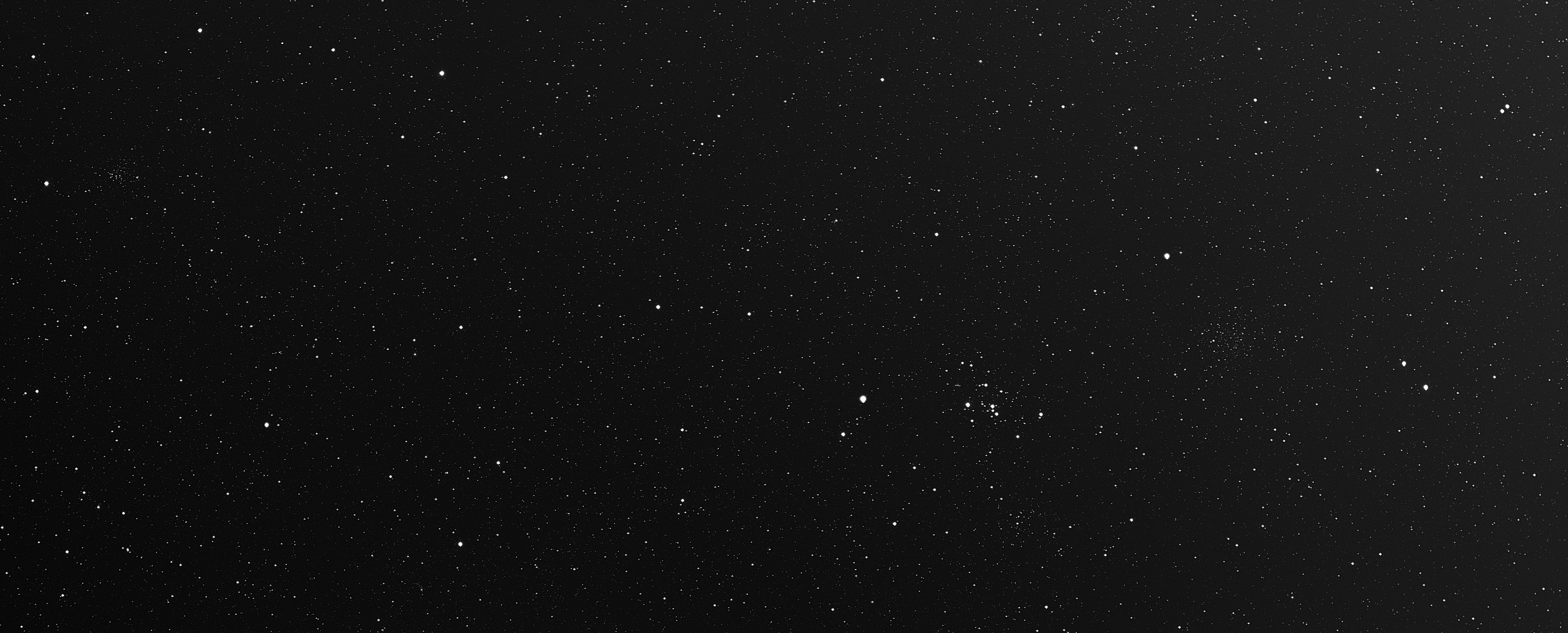 Taking advantage of a clearing of about an hour , I had the possibility to capture the Orion Nebula (M42).
After many item purchasing over a long period, it is the first time I quickly setup all the equipment !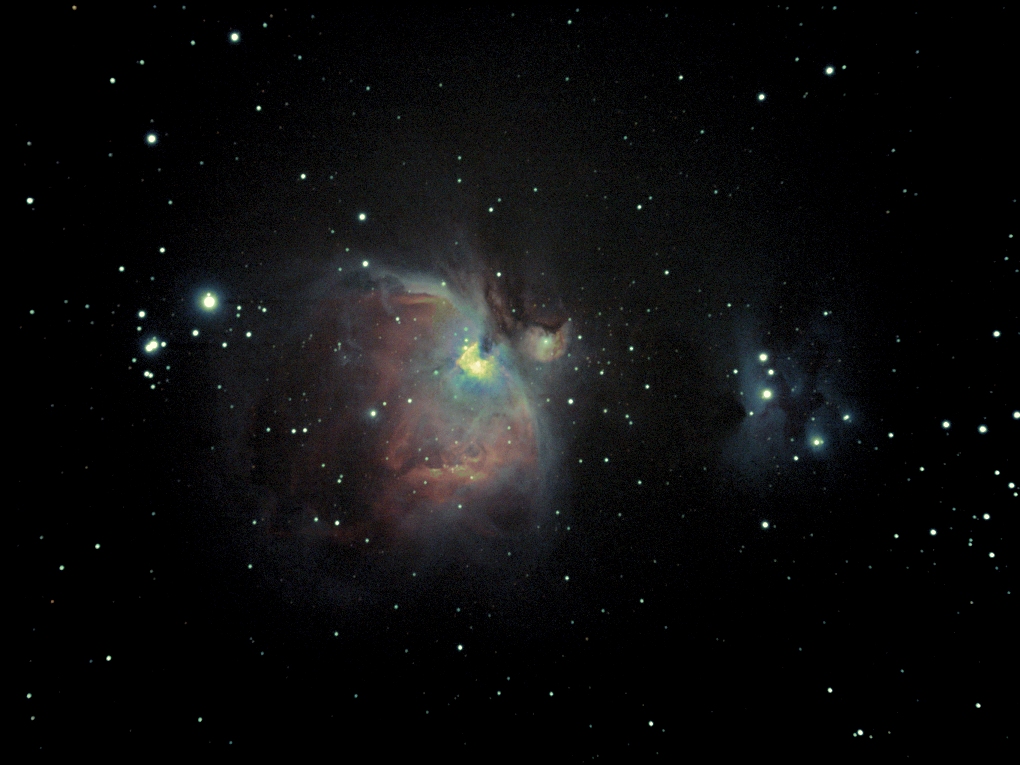 Conditions:
Brief clearing, transparent and clear sky after much rain.
Location : Saint Remy les Chevreuse (35Km Paris, no major cities in the South)
Orion in the SW getting closer to the bright area of a street lighting (HP Na) :(
Technical details :
Had to hurry with setup, otherwise would have been perfectly ready but under the rain !
Polar alignment with polar viewfinder (3min)...ATTENTION Time must be entered in UT !!
Setting ISO 1600, JPEG mode
Rapid focusing only in the Canon viewfinder with confirmation by posing 10s and looking at APN screen x 10x (3min)
Orion framing (1 min)
Switching to RAW mode
Launching exposures of 1 min for 1 / 2 hour
Launching exposures of10s during a few min. NB: unfortunately already hazy skies.
No flat this time.
During disassembly and storage just before the return of the rain :
Canon 300D with cap placed on a chair outside under the open roof
(same temperature as during the shooting) ...
dark of 1 min (16)
dark 10s (13)
offsets to 1/4000s (5)
Image processing:
DeepSkyStacker (My first use ... I really liked it ! How easy !) :
Loading all images
The chronological display of RAW with direct exposure length allows note on a paper the different exposures / darks ...
Loading images, dark, offsets for the 1 min serie.
Elimination of images with manual shift clearly visible. 16 good RAW remain !
Processing with the recommended advices !
Adjustment and saving of the images after 15 minutes of fully automatic work !
Same procedure with 10s serie (unfortunately uneven because of the arrival of high clouds)
Saving in TIFF
Irfanview:
Lum color adjustment gamma etc . Saving PNG 16bits.
In Paint Shop Pro :
10s image in the background, 1min image above
Soft rubber to desaturate the trapeze
Subtraction of the pdark (see my page http://sweiller.free.fr/DSO-Canon10D-300D/DSOs-in-Polluted-Skies.htm)
Effects "photo processing"
Softening preserving the structure
Scaling and various savings.
Item used :
Orion 80ED
Mount LXD75
2 " tube extension
IDAS filter LPS
Defiltered Canon 300D
Pocket Shutter by Denis Joye
4GB CF card Ultra II High Speed Sandisk
DeepSkyStacker, Irfanview, Paint Shop Pro
Of course, it will be possible to do better with the same intruments next time with more time
of clear skies and better adjustments ( ISO 400, more RAWs, flats, etc.).
But anyhow I like the result in my rather polluted skies !
3 min accurate polar alignment for astrophotography !!
Example : with LXD75 mount ... No coordinates, even no date/time needed :
Simplified Clay's Kochab's Clock
(Polar Alignment Method For The German Equatorial Mount)
The perfect solution if you don't have a camera with live view ... almost as fast and accurate !
Just print your own calculated for you refractor or telescope on a transparency film with a laser printer* !
glue it and scotch it on a stripe of foam (roll of sleeping foam used when hiking) as below & then get very good focus in an instant !!
(*Then you don't have to cut out the white / The .svg file can be open and printed easily
with Irfanview+plugins / I use 2 prints ajusted together for better contrast)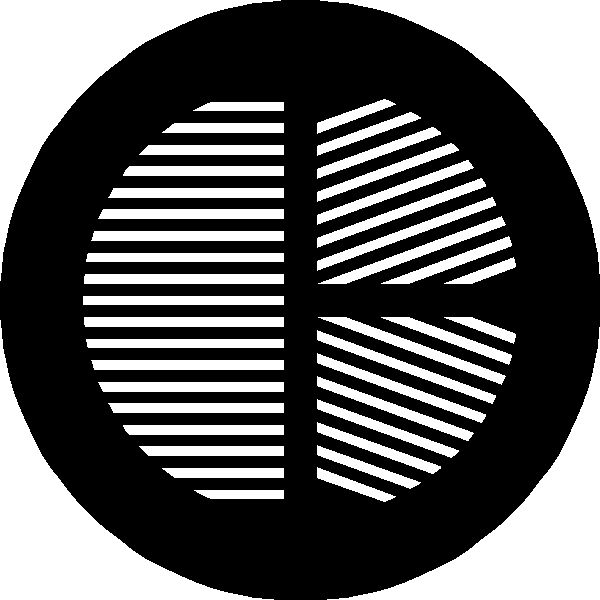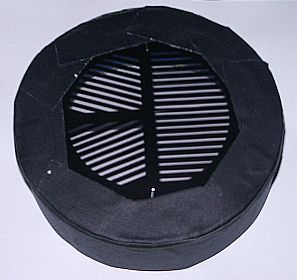 Bahtinov Focusing Mask Generator is at http://astrojargon.net/MaskGenerator.aspx
(Example : Orion 80ED .svg file to print twice at exactly 114mm diameter)
Look at a few sec exposure on Vega (ISO 1600) with the mask :
| | |
| --- | --- |
| | |
| Main line not centered ... bad focus | 1 min later, line centered ... Very good focus !! |
| | |
| Result 1 : very small bright dots on lunar terminator | Result 2 : nicely focused stars |
Hint : I you are shooting in HAlpha, I guess it is possible to use another filter of the same
thickness (LPS eg.) for focusing then change it back for shooting ...
© 2005 - 2016 Sylvain Weiller. All right reserved | Term of Use |